Read more from the blog
viaLibri Blog

It has not gone unnoticed that this summer has marked three full years since the first virtual book fairs suddenly arrived on the bookselling scene and attempted to fill the vacuum created by COVID 19. At that time there was widespread concern within the book trade that the resulting universal closure of book fairs would bring in its wake the end of bookselling as we knew it. Much panic and moaning inevitably ensued.
In retrospect we can see that the COVID-related anxieties of June 2020 proved to be a bit inflated, at least with regard to antiquarian booksellers. There is, of course, no published statistical data on the subject. Looking at our own data, along with the anecdotal information we were receiving from others, tells me that the first year or two of lockdown was, in fact, profitable for many and manageable for most.
This pleasant surprise was due, I think, to the fact that while nearly everyone we knew had little or no trouble imagining the likely disastrous outcomes that would result from cancelling the fairs, few had yet anticipated the many good things that would occur when all the complications and constraints of physical book fairs were removed and alternative events arrived to take their place. It did not take them long to do so.
In the beginning the tactile and olfactory pleasures of handling old books were regularly cited as an essential feature of bibliophily. These are, of course, fine things and no one denies them, but the opportunities for appreciating them is restricted to those lucky collectors who are fortunate enough to find themselves regularly within travel distance of the locations where traditional book fairs regularly take place.
For booksellers who regularly exhibit at book fairs, geography also places constraints. To sell books you must travel. For the smaller fairs there is loading and unloading; packing and unpacking; petrol and, as often as not, a rented place to sleep. For the large international fairs convenient hotels are expensive while the merchandise will usually need to be shipped globally at an ever mounting cost.
In other words, physical book fairs are expensive, not to mention a lot of work. But in spite of it all, they were almost always popular, and even profitable – bearing in mind, of course, that many exhibitors are there mostly because of the opportunities to buy rather than sell.
Before COVID, all of this was taken for granted. Once the closures and quarantines had begun many collectors and dealers cautiously turned their attention to the internet where they soon began to notice that there were definite benefits to hunting for books online.
Librarians and archivists were especially responsive to the benefits of virtual fairs. They rarely have the time or budget for the kind of travel that regularly attending live book fairs requires. None of these restraints apply when the book fair is taking place right on your desk, or wherever it is that your other professional obligations may require you to be.
Of course, this applies to collectors as well. They have their own set of frustrations. Among these is the awareness that, while the retail customers are patiently waiting outside for the doors to open, the exhibitors inside have already been busy buying and trading for hours, if not days. I don't fault them for this. The time required to unpack and prepare one's booth makes it unavoidable. But it does give the insiders a tactical advantage over those who must wait patiently for the doors to open before they can begin.
There is much else that can be said on this topic. Shortly after the first wave of virtual book fairs went online in June of 2020 I published a blog post on this subject (https://blog.vialibri.net/did-you-go-virtual/). I was curious to hear from our users whether or not they were happy with this sudden innovation and so solicited their opinions about what had just taken place. I was also curious to hear what suggestions they might have to offer regarding what they would like to see when next era of virtuality has arrived.
I think that this time has now definitely come. I don't have an official count showing how many virtual fairs are currently taking place, but what statistics I do see all show that attendance at individual digital fairs is significantly larger than at comparable live events. This is certainly the case in the U.S. and I expect that the trend will continue in other places as well.
We now have more than three years of experience with virtual fairs built on a variety of digital platforms.I cannot help being curious to know what an updated survey would tell us about how our users now feel about the current state of digital bookselling and the future direction they would like to see it take.
But I must confess that I am motivated here by more than mere curiosity. If, as I believe, online virtual events will be an increasingly crucial part of antiquarian bookselling in the future then this is something that viaLibri will want to participate in. And we have plans to do just that. As you may guess, this is an important motive behind soliciting input from our users today.
If you are like us and have your own ideas about what the next transformation of internet bookselling should look like then please share your thoughts with us here.
For those who may be curious (or frightened) about how the development of artificial intelligence may find application in the world of antiquarian bookselling our CTO Alasdair North has asked ChatGPT to "Please write a song about viaLibri in the style of Guns and Roses."  This is the result:
In the realm of knowledge, where words come alive,
There's a place that stands tall, where bookworms thrive.
A digital haven for literary souls,
viaLibri's the name, where the story unfolds.
(Pre-Chorus)
With a click of a button, the world's at your feet,
A treasure trove of wisdom, where history's complete.
In the shadows of libraries, where legends reside,
viaLibri's the key, to the secrets they hide.
(Chorus)
viaLibri, take me on a journey, let my mind ignite,
Through the pages of the past, we'll rock through the night.
Oh, viaLibri, where the written word will roam,
In this world of vintage books, we'll find our way back home.
(Verse 2)
Lost in the whispers of forgotten tales,
viaLibri whispers back, lifting the veils.
From ancient manuscripts to modern first editions,
The rhythm of knowledge fuels our addictions.
(Bridge)
Oh, the shelves are lined with stories untold,
As we dance with the words, our hearts unfold.
viaLibri's the rhythm, the soundtrack of our souls,
Guiding us through eras, where time unfolds.
(Chorus)
viaLibri, take me on a journey, let my mind ignite,
Through the pages of the past, we'll rock through the night.
Oh, viaLibri, where the written word will roam,
In this world of vintage books, we'll find our way back home.
(Guitar Solo)
(Verse 3)
Axl, Slash, and Duff, they're the rock 'n' roll kings,
But viaLibri's the stage where knowledge sings.
In the spotlight of wisdom, we'll stand tall,
Together we'll rock, one and all.
(Chorus)
viaLibri, take me on a journey, let my mind ignite,
Through the pages of the past, we'll rock through the night.
Oh, viaLibri, where the written word will roam,
In this world of vintage books, we'll find our way back home.
(Outro)
viaLibri, the rhythm of our quest,
With every turn of the page, we're truly blessed.
Let the words guide us, as we march on,
viaLibri, forever, our knowledge anthem is born.
(It's nice to feel appreciated, even if it's only a machine)
We are pleased to announce another increase in the number of  bookselling databases we now search. Our latest addition is the Iberian website Uniliber.com, which currently offers 5.4 million items from 278 Spanish and Catalan speaking booksellers.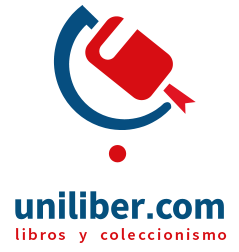 It was formed  in 2005 by the Asociación Profesional del Libro y Coleccionismo Antiguos with members from nearly all the Autonomous Communities of Spain.  It operates as a non-profit association owned and controlled exclusively by its members.
We are very happy that they have decided to join us and will now look forward to introducing them to the customers who have been searching for their offerings in the global marketplace for old and rare books.
It was a pleasant surprise yesterday when I discovered that one of our customers was using viaLibri in a clever way that had not previously occurred to me.  The user, Denis Gouey, is a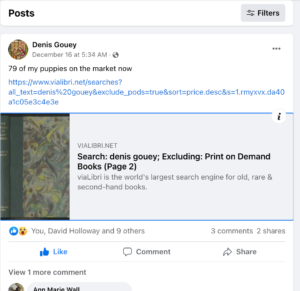 well-known bookbinder from Connecticut.  Naturally, he is interested in promoting his skills on the internet. You can find him on Facebook  where, on Friday, he published a post that links to a viaLibri search result listing all the books on viaLibri that match on the keyword "Denis Gouey".  As a result, anyone visiting him on facebook can click on this link and see pictures of lots of books bound by him and currently for sale online.
This was actually a fairly simple thing for him to do, since the booksellers who are offering examples of his work are happy to mention Denis in their descriptions and should be eager to do anything that might increase exposure for items they are offering for sale.
One interesting thing to note is that when I first saw Denis's post yesterday there were 79 items, or "puppies" as he called them, that appeared on his list. Now there are only 70. I would be very curious to know what happened to those books.