Recently found by viaLibri....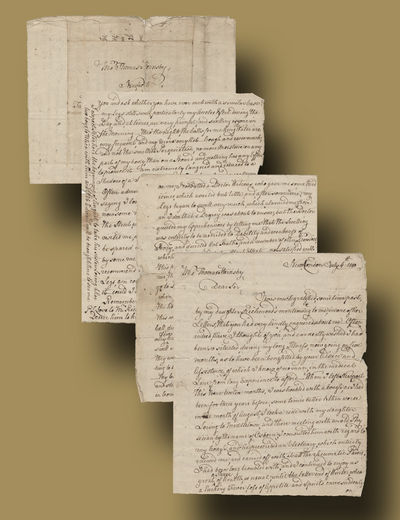 Medicine
July 4, 1810. Autograph Letter Signed "J Bowrs"3 pages, 6.75" x 8.25", on two conjoined sheets of paper plus integral address leaf, New London, [Connecticut], July 4, 1810 to Dr. Thomas Hartley of Newport, Rhode Island asking for the doctor's assistance. Bowrs, a native of Newport, now living in New London, Connecticut writes, in part: "...I had been situated during my long Illness, now going on five months; as to have been benefitted by your Advice and assistance of which I know of no man in the medical Line from long Experience to afford -- When I left Newport this time twelve months [ago]... I took a ride with my daughter Loring to Middletown, and there meeting with an old Physician, by the name of Osbourn, I consulted him with regard to my Cough, and he prescribed an Electuary, which entirely relieved me, and carried off with it all the rheumatic Pains, I had been long troubled with, and I continued to enjoy as great a Share of health, as usual, until the latter end of Winter, when a lurking Fever, loss of Appetite and Spirits came suddenly on me, I consulted a Doctor Watrons who gave me some medicines, which availed but little, and, after some time, my Legs began to swell very much, which alarmed me, from an Idea that a Dropsy was about to ensue but the Doctor quieted by apprehensions by telling me that the swelling was entirely to be ascribed to Debility and weakness of Body, and directed hot Baths, and a a number of other Remedies, which were all tried, but without Effect -- not satisfied with this practice I called in a Doctor Butts, who soon convinced me, that the swelling was occasioned by Water -- when you to to Bed, says he, you are greatly swelled, and in the morning when you rise, the swelling is almost gone; occasioned by the horisontal [sic] posture, in which you lay, during the night, This was convincing to me, and corroborated by a very frequent call during the night to make water, in large Quantities of very few Calls, indeed, during the Day, my Legs continuing to swell in the Day, and going off in the night till at length they were less than ever in the Morning, and the Doctors operating to little purpose all the while, and my self very miserable -- My Cough returned about two months past, became troublesome and still continues and a visible abatement of the Swelling, in Consequence. My present situation, I will just describe to you and ask whether you have ever met with a similar Case? my legs still swell, particularly my ankles & feet during the Day, and, at times, are very painful, and swelling is gone in the Morning - Thro' the night, the Calls for making Water are very frequent, and my Urine very hot -- Cough and raise much, and not the smallest Perspiration, no more moisture on any part of my body, than on a Board, and nothing has any Effect to produce it -- am extremely languid and reduced to a Shadow of a Shade -- Opiates have been found necessary Often administered -- All my fiends encourage me by saying I look better -- I am so as to Fever.. now some relish for my Food, but cannot w[alk down] the Street, without help..." More fine content making for a superb exercise for any physician or medical student!

Partial fold separations and small loss from seal tear affecting some text on page three, else very good condition.




[Bookseller: University Archives]
Last Found On: 2018-02-04
Check availability:
Biblio
---
Home Wants Manager Library Search 563 Years Links Contact Search Help Terms of Service Privacy
---
Copyright © 2019 viaLibri™ Limited. All rights reserved.