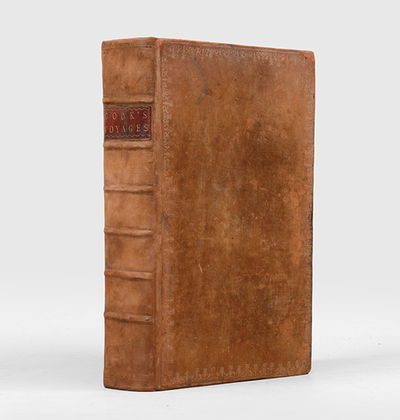 A New, Authentic, and Complete Account of Voyages Round the World,
London: Alexander Hogg, , [1784–6] . Undertaken and Performed by Royal Authority. Containing a New, Authentic, Entertaining, Instructive, Full and Complete History of Captain Cook's First, Second, Third and Last Voyages... The Whole of these Voyages of Capt. James Cook, &c. being Newly written by the Editors from the Authentic Journals of Several Principal Officers and other Gentlemen of the most Distinguished Naval and Philosophical Abilities, who sailed in the Various Ships, and now publishing under the Immediate Direction of... Assisted, Very Materially, by a Principal Officer who sailed in the Resolution Sloop, and by Many Other Gentlemen of the Royal Navy. Folio (378 × 238 mm). Contemporary reversed calf, expertly rebacked to style retaining the original red morocco label, foliate panel in blind to the boards. With engraved portrait frontispiece and 156 other plates, maps, and charts including one large folding map showing the track of Cook's voyages. 19th-century newspaper clipping mounted to front pastedown; inscription to frontispiece verso, "Richard William Bloxham Fiander, the gift of his father, May 29th 1845". Corners and board-edges skilfully refurbished, title page and prefatory leaf a little cropped at the tail, folding map misfolded and with some splits, repaired with archival tissue verso, light browning throughout, plate facing p. 326 frayed and rumpled along bottom edge, but intact, final few leaves (list of subscribers and terminal blanks) creased, overall very good. First edition of this "omnibus" compilation of Cook together with Byron, Wallis, Carteret, Mulgrave, Anson and Drake. Printed in double column in "large new Types, constructed on Purpose to comprise much Matter in a little Compass" and issued in 80 sixpenny parts with avowedly philanthropic intentions, Hogg's edition certainly did much to disseminate knowledge of Cook's discoveries; "Some other editions of these Works, unnecessarily extended to many large Volumes by loose Printing &c. and published by mercenary Persons… would cost the Purchaser the enormous Sum of upwards of Twenty Guineas; so that many Thousands of Persons who would wish to peruse the valuable Discoveries so partially communicated to the World… have hitherto been excluded from gratifying their eager Curiosity; but this Edition is published in only Eighty Numbers at 6d each, making when complete either One or Two Large Handsome Volumes in Folio… The Poor as well as the Rich will thus become familiarly acquainted with these extraordinary and important Voyages and Discoveries" (publisher's preface). "An important collection of English voyages... [which] sometimes gives the original accounts, others are edited or abridged versions, and frequently additional material from other sources are added to give scope and depth to the narratives" (Hill). George William Anderson is almost certainly a pseudonym.

[Bookseller: Peter Harrington]