Recently found by viaLibri....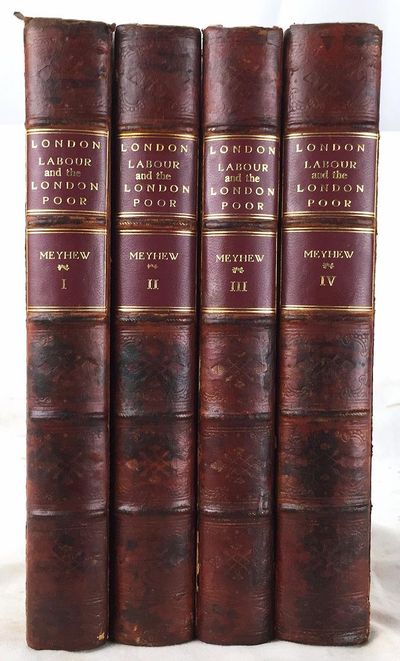 London Labour and the London Poor; A Cyclopaedia of The Condition and Earnings of Those That Will Work, Those That Cannot Work, and Those That Will Not Work, Volumes I, II, III, & IV
Griffin, Bohn and Co, 1861-01-01. Hardcover. Very Good. 97 plates, choropleth maps. Four octavo volumes. Contemporary 3/4 calf over marbled boards, modern red leather spine labels, raised bands, marbled endpapers and endpages. Each volume rehinged, restoration to spines, chipping to edges, bindings solid, internally shows minors signs of age and use, slight offsetting from maps. Signature of Horatio Rogers ABPC 74. A very good copy of an important and classic work of sociology.

Henry Mayhew (1812-1887) was an English social researcher and journalist (London native and Grub Street hack). Original issued in a series of 82 articles between 1849-1850 for the Morning Chronicle and 3 volumes in 1851. In this book he vividly describes the lives of laborers, traders, street people, prostitutes, performers, thieves, mudlarks (people who searched the mud of the River Thames for things dropped by passing ships), pure-finders (people who gathered dog excrement to sell to tanners) ratcatchers, and beggars. The fourth volume was co-written by authors and contains more sociological analysis as well as an important early attempt to tie poverty to crime. (The cartographic or geographic school of criminology, Phillips, Phillip D. A Prologue to the Geography of Crime. Proceedings of the Association of American Geographers 4: 86 91, 1972.) See Michael Dirda's review in the Washington post, 'London Labour and the London Poor': Sociology at its most Dickensian, January 26, 2011.

This is an oversized or heavy book that requires additional postage for international delivery outside of Canada and the US. ((I-III. The London street-folk; comprising, Street sellers. Street buyers. Street finders. Street performers. Street artizans. Street labourers.--[Extra volume] Those that will not work. Comprising, Prostitutes. Thieves. Swindlers. Beggars. By several contributors. With introductory essay on the agencies at present in operation in the metropolis for the suppression of vice and crime. By the Rev. William Tuckniss)

[Bookseller: SequiturBooks]
Last Found On: 2016-10-07
Check availability:
Biblio
---
Home Wants Manager Library Search 561 Years Links Contact Search Help Terms of Service
---
Copyright © 2017 viaLibri™ Limited. All rights reserved.