Recently found by viaLibri....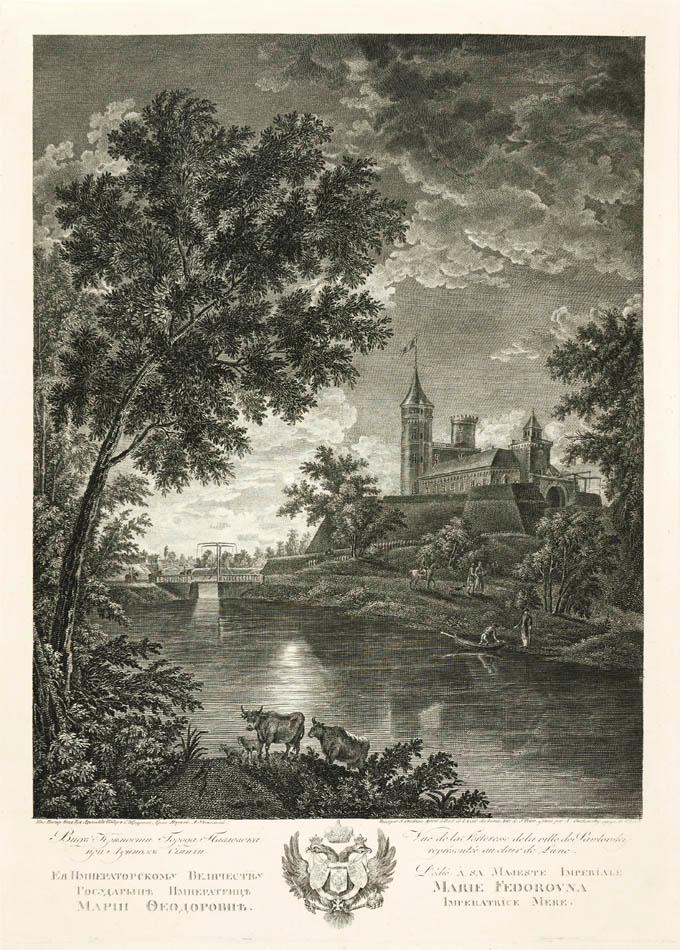 Vue de la Fortresse de la ville de Pawlovsky représentèe au clair de Lune.
Russia Early s 1800 - Engraving (app. 48 x 35.3 cm) by A. Oukhtomskiy after painting by Semen Shchedrin. Rare engraved lyrical view of the Bip Castle, a Pavlovsk fortress in Saint Petersburg. This folly fortress was constructed in 1795-1797 by an Italian architect V.F. Brenna on the order of Emperor Paul I. It was subsequently badly damaged during the Second World War and reconstructed only very recently. This print is part of the series engraved in 1790s - beginning of 1800s after paintings by Semen Shchedrin (1745 - 1804) depicting parks and palaces in Pavlovsk, Gatchina and Peterhof. The series were produced by a specially formed group of engravers that were working under the supervision of Shchedrin. The result of their work was 8 copperplates with 23 views that reflected the latest developments in the landscape painting, aligned with ideas and tastes of sentimentalism. Not in Rovinskiy, Podrobniy slovar russkikh graverov (5 other views from this series - column 1131 - 1132, ? 29).
Bookseller:
Shapero Rare Books