Recently found by viaLibri....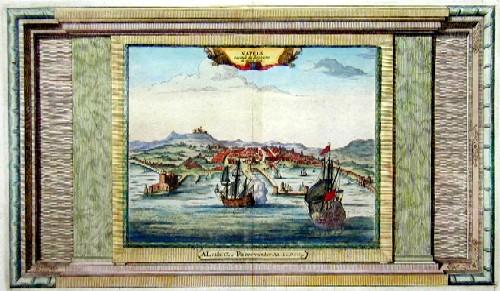 Napels Capitale du Royaume de meme nome
Artist: Aa van der Peter ( - 1733 ) Leiden; issued in : Leiden; date: 1729 1695 - - technic: Copper print; colorit: original colored; size (in cm): 23 x 39,5 - description: Map shows the city of Napels from the Harbour - vita of the artist: Pieter van der Aa ( 1659 - 1733) was a Dutch publisher best known for preparing maps and atlases, though he also printed pirated editions of foreign bestsellers and illustrated volumes. He also printed many maps that were often out of print, which he reissued. Some of his most popular maps were of the African continent, detailing locations such as Morocco and Madagascar. Many of his later works were printed for the general public in French and Dutch.Pieter van der Aa began his career at Leiden in 1683 as a Latin trade publisher, publishing classical texts pertaining to medicine and science. As he progressed, he began to publish atlases and maps, compiling numerous multi-volume collections of works. His ambition to become Leiden's most famous printer was fulfilled in 1715 with his appointment to head printer for the city and its university. One of Pieter van der Aa's largest compilations relates to the history of Italy and Sicily, an area of immense personal interest. Though he took credit for many of his compilations, several, such as the Dutch collection of travels to the East and West Indies, were admittedly simple improvements to others' works.
Bookseller:
Antique Sommer& Sapunaru KG
Search for more books on viaLibri