Recently found by viaLibri....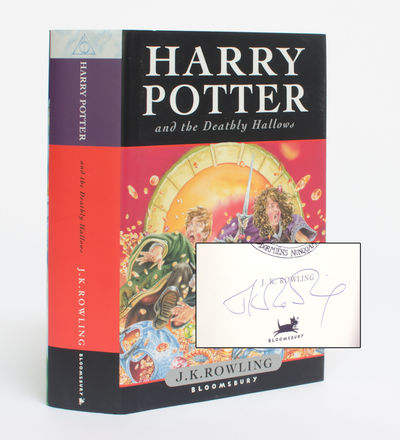 HARRY POTTER AND THE DEATHLY HALLOWS (Signed First Edition)
London: Bloomsbury, 2007. First edition. about Fine/Fine. The seventh and final book in the Harry Potter series, signed by the author directly on the title page. Book just about Fine, appearing unread, but very slightly cocked. In a Fine example of the dust jacket. The final volume of J.K. Rowling's beloved, immensely popular children's book series. "Harry Potter and the Deathly Hollows" charts the exciting conclusion of Harry Potter's struggle with the evil wizard, Lord Voldemort. "Deathly Hallows" has been translated into over 120 languages and, upon its release, the work was the fastest selling book of all time - over 15 million copies were purchased in the first day it appeared on shelves. The popularity of the series dictated that the publisher spent an immense amount of money to keep the book's plot a secret. (A plan which would ultimately prove fruitless when the work was leaked before publication.) It appeared on Time's list of the "Top Ten Fiction Books of 2007" and would be adapted into a two-part film - as part of the larger Harry Potter film series - starring Daniel Radcliffe, Emma Watson, and Ralph Finnes. The two-part film would be nominated for a number of Academy Awards. "J.K. Rowling's monumental, spellbinding epic…" (Contemporary New York Times Review). about Fine in Fine dust jacket.
Bookseller:
Whitmore Rare Books