Recently found by viaLibri....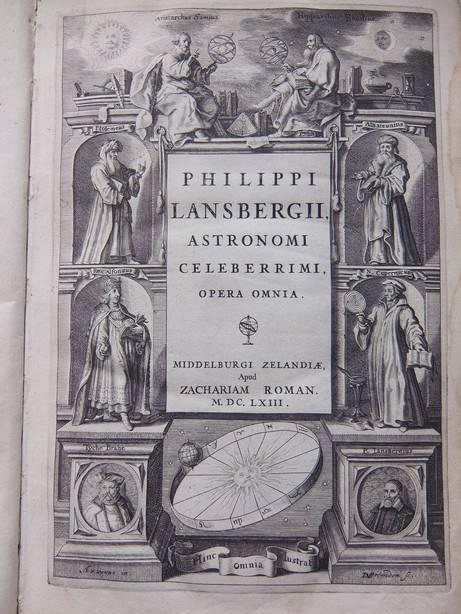 Astronomi celeberrimi, opera omnia.
Middelburgi; 1663. ; Zachariam Roman. Convolute; 8 titles (9 parts) in one binding. With engraved title (A. v. Venne), portrait of Philippus Lansbergen and many engraved plates (one folded) and woodcut illustrations in text and many tables of which one folded. Contemporary vellum; small folio (20x29 cm). This rare convolute is a collection of 8 former editions with the original title pages: (I) Triangulorum geometriæ, 1663, (14),88,(4),89-118 pp.; (II) Unranometriae, 1662, (10),74,(2 blanco) pp.; (III) In quadrantem tum astronomicvm, tum geometricum; nec non in astrolabium introductio, 1635, 28,(2),(2 blanco) pp.; (IV) Spaera plana à Ptolemaeo astrolabium dicta, 1636, 25,(3) pp.; (V) Horologiographia plana, 1663, (VI),53,(1) pp. ; (6) Commentationes in motum terrae, 1660, (8),34,(2 blanco); (VII) Tabulae motuum coelestium perpetuae, 1653, 2 vols. (12),41,(1) and (2),180; 181,(3) pp.; (VIII) Chronologiæ sacræ, 1662, (4),103,(3 blanco) pp. Six separate title pages with woodcut illustration and one with copper engraving showing an astronomer at work with his instruments with Middelburg on the background. Binding somewhat soiled; a few pages with small waterstains. All together a very attractive copy!Philippus Lansbergen (Gent 1561 - Middelburg 1632) was a theologian, mathematician and astronomer. In 1613 he settled down in Middelburg. He belonged to the first ones who defended the ideas of Copernicus in the Netherlands. His publications created sensations at home and abroad.
Bookseller:
Antiquariaat De Boekenbeurs
[Middelburg, Netherlands]
Search for more books on viaLibri