Recently found by viaLibri....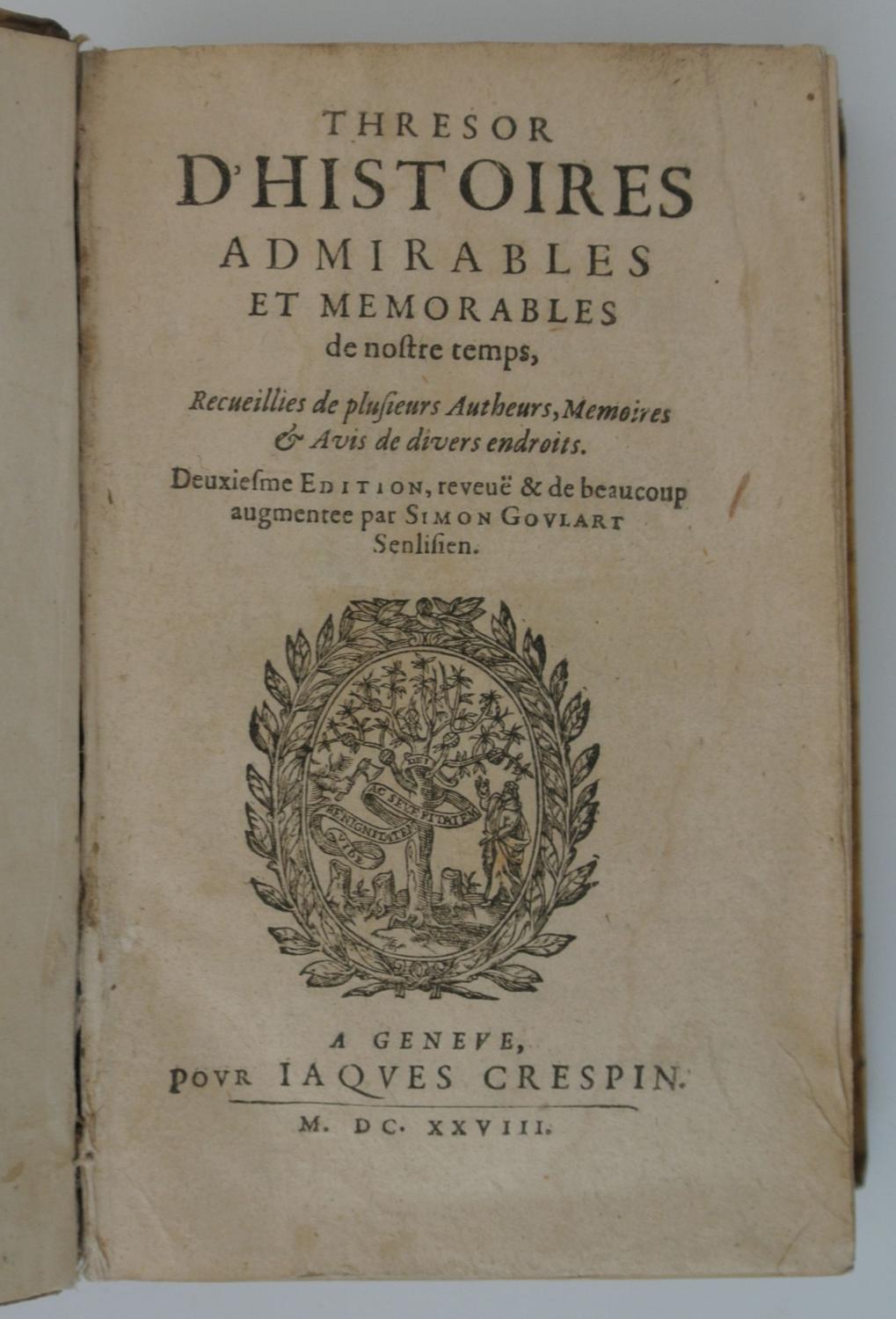 Thresor d'Histoires Admirables et Memorables de nostre temps, Recueillies de plusieurs Autheurs, Memoires, & Avis de divers endroits. Deuxiesme Edition, reveuë & de beaucoup augmentée para Simon Goulart, Senlisien.- [Troisiesme et quatriesme volume].
A Geneve: povr Iaqves Crespin, M.DC.XXVIII. [i.e. 1628].- [Para pedidos desde fuera de España, por favor, consulte las condiciones de venta y envío, tipo B / For orders to be delivered outside Spain, please, let you see our sale and shipping terms, type B / Pour les commandes à livrer hors d'Espagne, s'il vous plait, voyez les conditions de vente et de livraison, type B].- // 8º (168x105mm.); [8], 971 p.; sign.: *-*8, A-Zz8, Aaa-Ooo8, Ppp6; marca tipográfica en portada; portadilla "Qvatriesme volvme de Histoires Admirables & Memorables" en p. 535.- // Encuadernación de época en pergamino a la romana; lomo rotulado "Goulart, Thresor d Histoires". Amplios márgenes. Pequeño defecto en encuentro de la cofia con charnela delantera y leve roce en el canto del pie del plano trasero. Papel levemente oscurecido. Sin manchas, anotaciones ni humedades.- // Proc.: Sin datos.- // Refs.: Brunet, VII, 558; Caillet, II, 4664.- // Segunda y definitiva edición de los libros tercero y cuarto del "Tesoro de historias admirables y memorables de nuestro tiempo" que Simon Goulart había comenzado a publicar poco a poco en 1600. Convertido al calvinismo, Goulart hubo de emigrar en 1566, con 23 años, a Suiza, donde pasó a predicar en Ginebra de manera simultánea a sus actividades traductora e historiográfica(1). En el terreno de la organización de la Reforma, fue el sucesor de Théodore de Bezé (que había sucedido a Calvino en la cabeza de la Iglesia Reformada) como moderador de los pastores de Ginebra. En el terreno historiográfico, a partir de su llegada a Suiza, Goulart publicó una historia del co … [Click Below for Full Description]
Bookseller:
Andarto B.
[Pamplona, NA, Spain]
Search for more books on viaLibri