Recently found by viaLibri....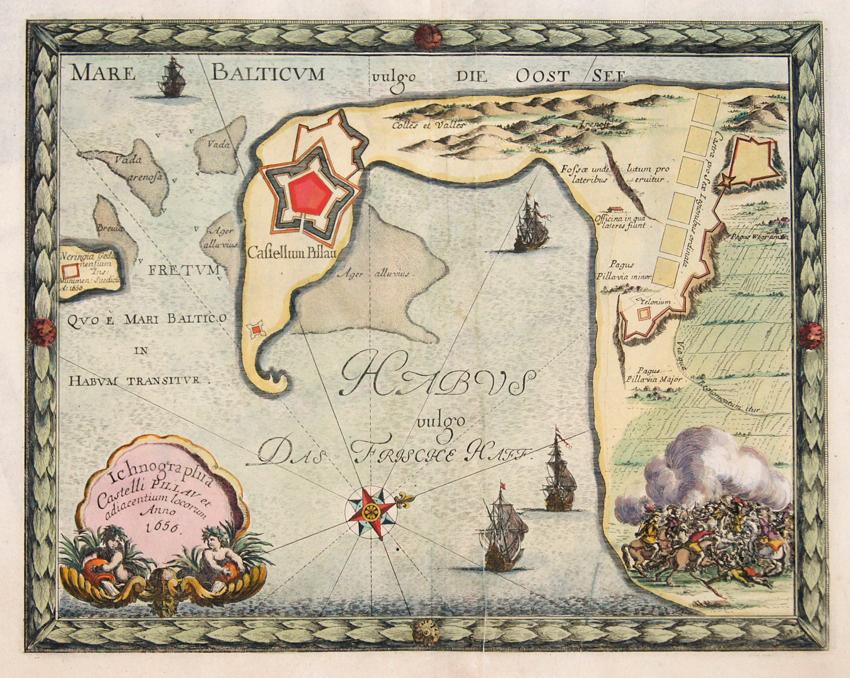 Ichnographia Castelli Pillau et adiacentium locorum Anno 1656.
Artist: Pufendorf Baron von Samuel ( - 1694 ) ; issued in : Nuremberg; date: 1697 1632 - - technic: Copper print; colorit: colored; condition: Counterlaid in the centerfold; size (in cm): 24,5 x 31 - description: Map shows the Fortress Pillau, since 1888 called fortress Stiehle, the coast fortress from the Haff in Poland. From Histoire du règne de Charles Gustave, roy de Suède. Issued from C. Riegel, 1697. - vita of the artist: Baron Samuel von Pufendorf (1632 ?1694) was a German jurist, political philosopher, economist, statesman, and historian. His name was just Samuel Pufendorf until he was ennobled in 1684. In 1677 Pufendorf was called to Stockholm as Historiographer Royal. To this new period belong Einleitung zur Historie der vornehmsten Reiche und Staaten. In his historical works, Pufendorf wrote in a very dry style, but he professed a great respect for truth and generally drew from archival sources. This work propounded for the first time the so-called "collegial" theory of church government (Kollegialsystem), which, developed later by the learned Lutheran theologian Christoph Mathkus Pfaff, formed the basis of the relations of church and state in Germany and more especially in Prussia.
Bookseller:
Antique Sommer& Sapunaru KG
Search for more books on viaLibri