Recently found by viaLibri....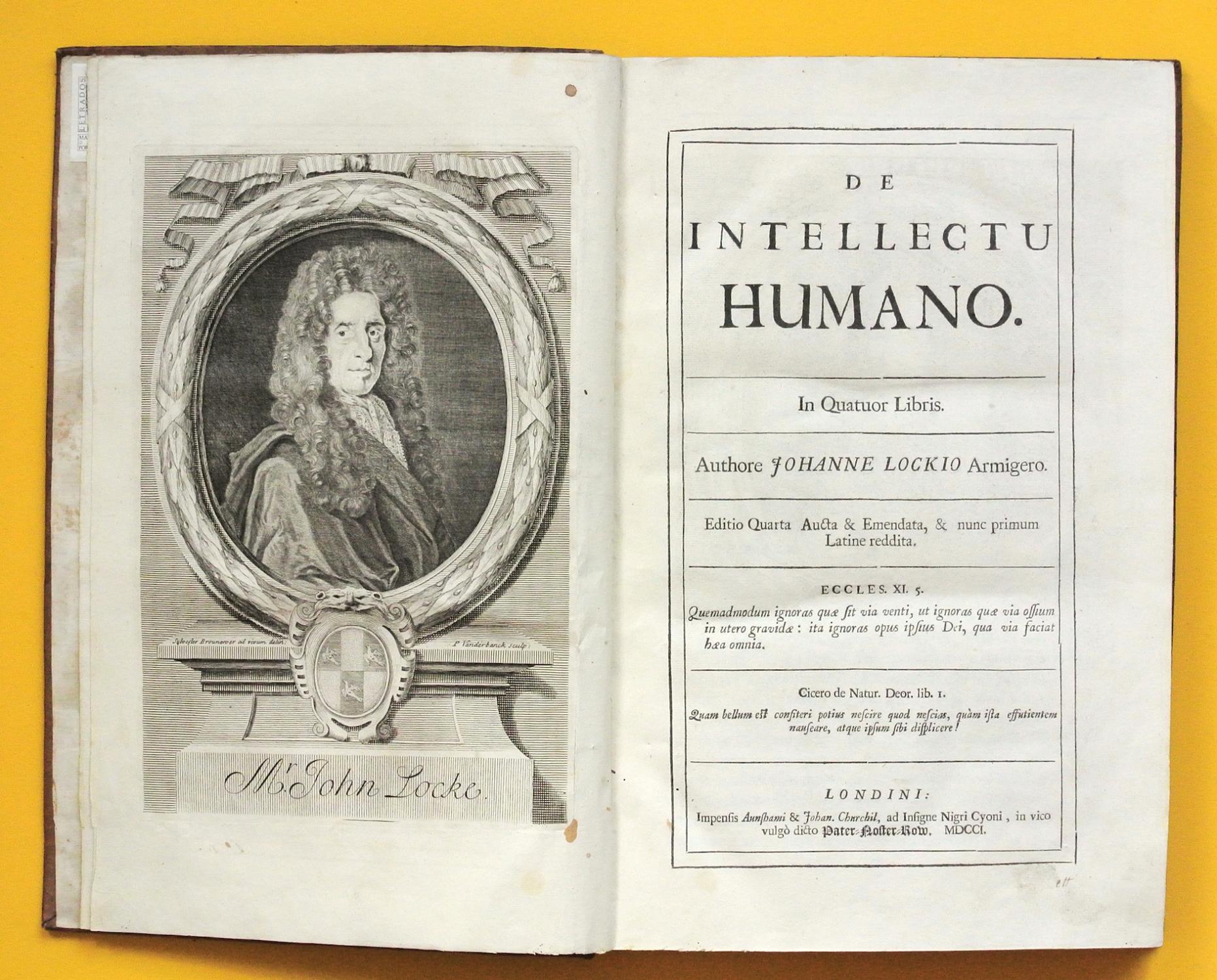 De intellectu humano. In quatuor libris. Authore Johanne Lockio Armigero. Editio Quarta Aucta & Emendata, & nunc primum Latine reddita
Londini: Impensis Aunshami & Johan. Churchil, ad insigne Nigri Cyoni ., MDCCI. [i.e. 1701].- // [Para pedidos desde fuera de España, por favor, consulte las condiciones de venta y envío, tipo B. / For orders to be delivered outside Spain, please, let you see our sale and shipping terms, type B. / Pour les commandes à livrer hors d'Espagne, s'il vous plait, voyez les conditions de vente et de livraison, type B.].- // 1ª edición en Latín.- // Folio, (322x209 mm.).- [28], 317 [i.e. 309] p. [numeración repetida en pp. 65-68; salto de numeración de p. 164 a 177]; sign.: [2], a-f2, A2, C-Vv2, Aaa-Mmmm2, Nnnn1; grabado calcográfico con el retrato de Locke, 'Silvester Brounorver ad vivum delin., P. Vanderbanck sculp:'; portada con orla tipográfica; apostillas marginales.- // Encuadernación s. XVIII en plena piel; lomo con nervios y filetes dorados parcialmente borrados; tejuelo perdido. Mínima rozadura en la encuadernación en cantos y planos; rasgadura 2 cm. en lo alto del cajo delantero. Estupendo ejemplar sin marcas, manchas, subrayados ni anotaciones; pequeña galería en margen interno sin afectar al texto, en tabla y dos primeros folios; escasos y dispersos puntos de oxidación; hojas levemente tostadas en sign. c-f2.- // Proc.: Etiqueta de la libreria Manuel Ferreira, de Porto, encolada en contrapalno delantero; iniciales estampadas en angulo superior de hoja de guarda suelta delantera, 'J.E.C.V'.- // Aunque Locke tenía la intención de que esta edición en latín se publicase en 1696, y en 1695 pensaba incluir en ella por primera vez sus reflexiones sobre el entusiasmo y la conexi … [Click Below for Full Description]
Bookseller:
Andarto B.
[Pamplona, NA, Spain]
Search for more books on viaLibri