Recently found by viaLibri....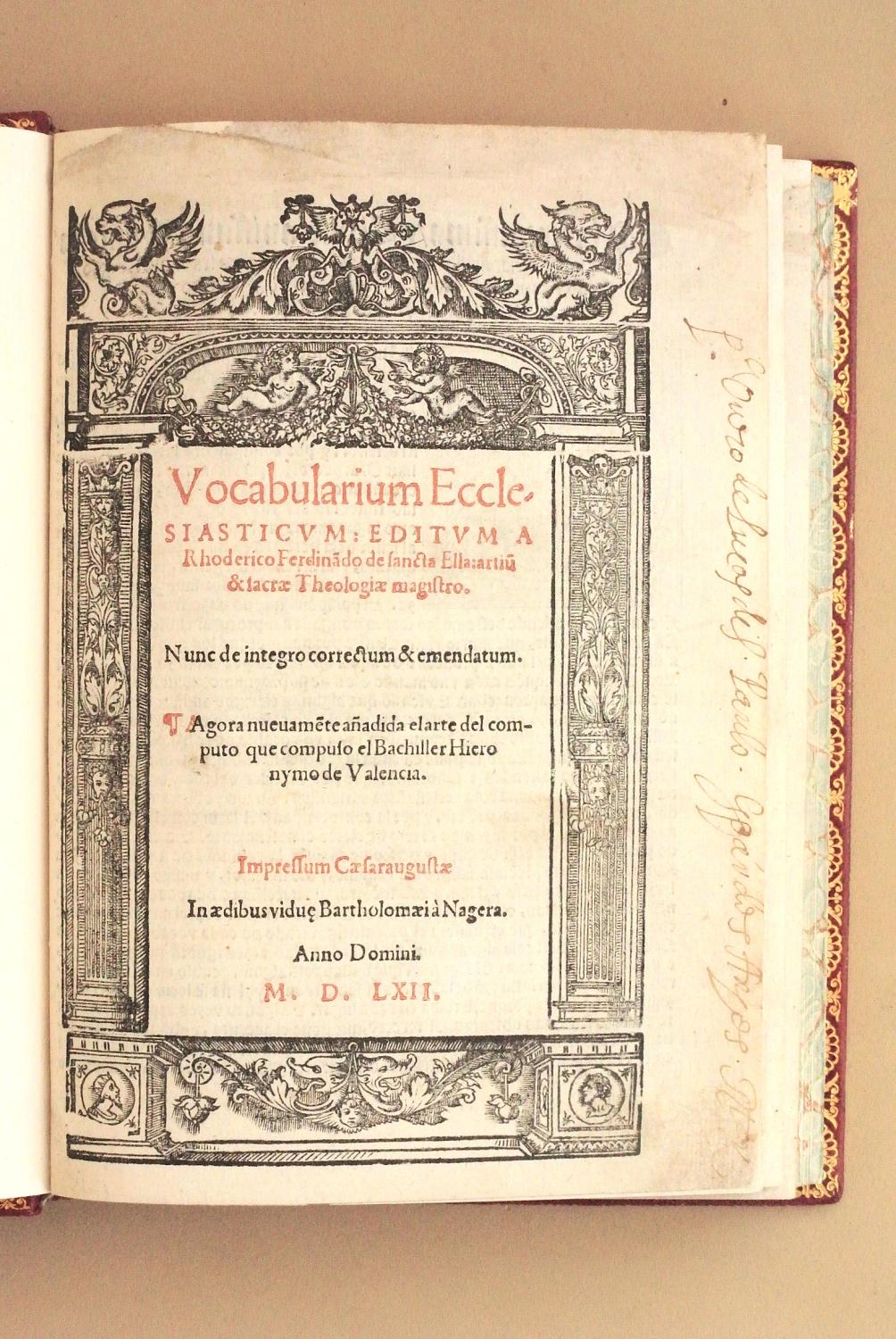 Vocabularium Ecclesiasticvm: Editvm a Rhoderico Ferdinando de Sancta Ella: artium & sacre Theologiae magistro. Nunc de integro correctum & emendatum. Agora nueuamente añadida el arte del cómputo que compuso el Bachiller Hyeronimo de Valencia
Impressum Caesaraugustae : In aedibus vidue Bartholomaei à Nagera, Anno Domini MDLXII. [i.e. 1562].- // [Para pedidos desde fuera de España, por favor, consulte las condiciones de venta y envío, tipo B. / For orders to be delivered outside Spain, please, let you see our sale and shipping terms, type B. / Pour les commandes à livrer hors d'Espagne, s'il vous plait, voyez les conditions de vente et de livraison, type B.].- // 8º, (194x142 mm.).- [186] h.; sig.: a-y8, z10; portada arquitectónica con el texto a dos tintas; iniciales grabadas; grabadito en recto de z6; colofón con marca tipográfica en verso de z10; texto a dos columnas, letra gótica; pequeña capital xilográfica al inicio de cada letra. A partir de z6, 'Arte del computo nueuamente compuesta por el bachiller Hieronymo de Valencia.'- // Encuadernación moderna en plena piel (realizada por Angulo y Jiménez) con estuche; lomo de cinco nervios con tejuelo, filetes y pequeños grabados en dorado; planos mudos con orla de doble filete gofrada; cantos y contracantos dorados a rueda; cortes marmoreados. Pequeños injetos y remarginaciones en margen superior de portada, a2, a7 y a8, y mínimas en algunas puntas; papel limpio, sin anotaciones ni subrayados, salvo exlibris manuscrito en portada.- // Proc.: Exlibris manuscrito en margen derecho de la portada, 'Ouro de Lucas . (?)'.- // Refs.: Vocabularium.: Hazañas, 30; Niederehe, BICRES, I, 434; Palau, 89765; Sánchez, 423.- Arte del cómputo: Pastor Fuster, I, 221; Picatoste, 821.- // A falta de biblias en castellano. Impreso por primera vez en Sevilla, en 1499, el propósito del … [Click Below for Full Description]
Bookseller:
Andarto B.
[Pamplona, NA, Spain]
Search for more books on viaLibri
LINK TO THIS PAGE:
https://www.vialibri.net/years/books/55899446/1562-fernandez-de-santaella-rodrigo-1444-1509-vocabularium-ecclesiasticvm-editvm-a-rhoderico-ferdinando
Browse more rare books from the year 1562