Recently found by viaLibri....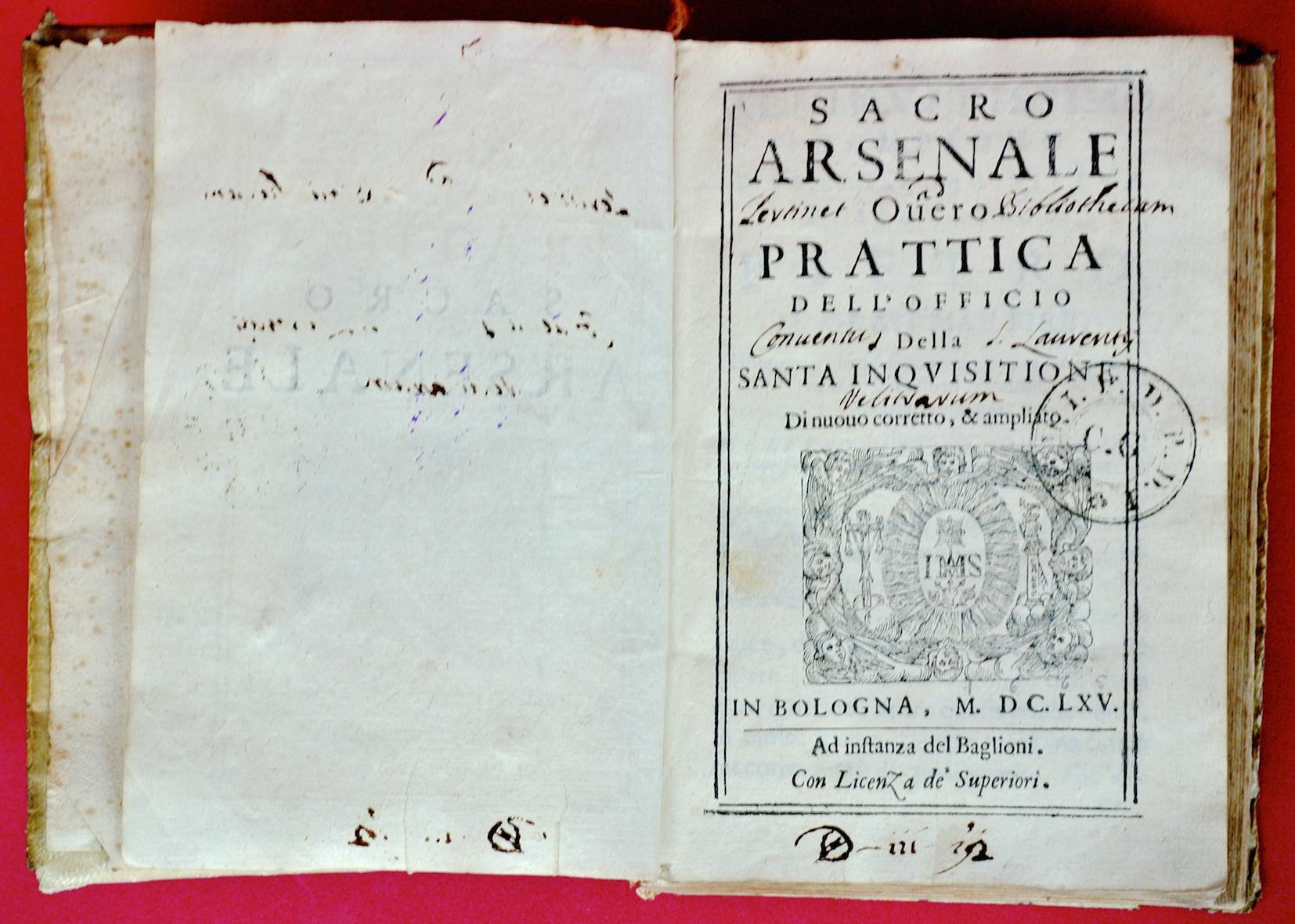 Sacro arsenale ouero prattica dell'officio della Santa Inquisitione. Di nuouo corretto, & ampliato.
In Bologna: Ad instanza del Baglioni, MDCLXV. [i.e. 1665].- [Para pedidos desde fuera de España, por favor, consulte las condiciones de venta y envío, tipo A. / For orders to be delivered outside Spain, please, let you see our sale and shipping terms, type A. / Pour les commandes à livrer hors d'Espagne, s'il vous plait, voyez les conditions de vente et de livraison, type A.].- // 2 obras en 1 vol., 8º, (162x110mm.); 432, [64], 32 p.; sign.: A-Z8, Aa-Hh8; A-B8; orla de doble filete y viñeta xilografiadas en portada; incluye, con paginación y signaturas propias: 'Aggionte al sacro arsenale della Santa Inquisitione'.- // Encuadernación de época en pergamino; autor y título rotulados en el lomo. Cuerpo desprendido; rotura con falta en lomo; algunas llamadas de atención manuscritas en los márgenes.- // Proc.: Exlibris manuscrito del convento de San Lorenzo de Velletri y un sello de tampón ilegible.- // Refs.: Caillet, III, 7203.- // Las primeras ediciones de este compendio de prácticas y normas para el ejercicio de su 'oficio' por los inquisidores, escrito por el inquisidor Eliseo Masini da Bologne, las imprimió en Génova Giuseppe Pavoni en 1621 y en 1625. Fallecido el autor en 1627, en Roma apareció en 1639, impresa por los herederos de Corbelletti, una edición ampliada, sin que se sepa quien fue el responsable de los cambios. Un dato relevante es que, a partir de esa edición, el Sacro arsenale comenzó a mencionar la Instrucción, que Roma venía difundidendo en secreto desde 1621, de evitar propasarse en los tormentos para estimular las confesiones en los procesos de brujería c … [Click Below for Full Description]
Bookseller:
Andarto B.
[Pamplona, NA, Spain]
Search for more books on viaLibri