Recently found by viaLibri....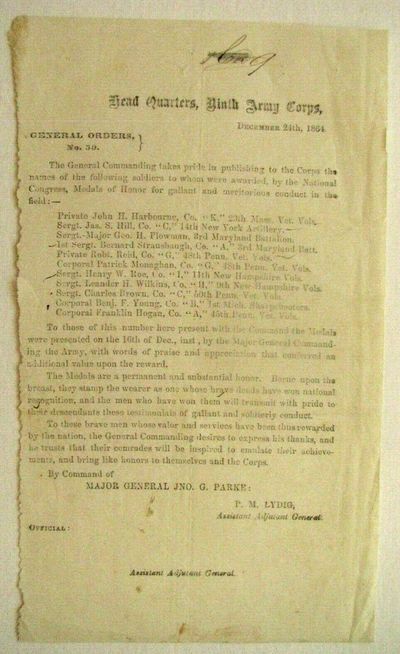 Original Civil War Orders to the Field Awarding the Medal of Honor for Heroism at Petersburg
Medal of Honor Hero Roll - Battle of Petersburg 1864. The Congressional Medal of Honor was awarded to a number of Union soldiers during the Bloody 9 month Siege of Petersburg and to none more deserving than the brave men of the 48th Pennsylvania Infantry--the coal miners who dug the Mine under the Confederate works, resulting in the Battle of the Crater. An original Civil War General Order printed in the field by soldier printers at HQ 9th Army Corps, December 24, 1864 announcing the Medal of Honor has been awarded by the National Congress to 11 named soldiers, including Private Robert Reid & Corporal Patrick Monaghan, of G Company, 48th Pennsylvania Veteran Volunteers, whose award is for heroism at the First Assault at Petersburg, June 17, 1864. The Order was issued by Command of Major General John A Parke as 9th Corp Commander, a few weeks before the men of the 48th went on to dig the Mine that resulted in the Battle of the Crater. General & Special Orders were issued to communicate commands and information to the Army. Each order, issued in writing by a command, was then printed for distribution to each unit, either at an army department headquarter or by commanders at local headquarters in the field on portable printing presses operated by soldiers. The orders were then issued to regiments, to be read aloud to the troops. This General Order "Hero Roll" is one page, 8" x 5" inches printed and headed "Head Quarters, Ninth Army Corps, and with pen notation at top "HeadQ". The order has been roughly cut at the left margin, not affecting the text. Overall in very good con … [Click Below for Full Description]
Bookseller:
Max Rambod Inc.
[United States]
Search for more books on viaLibri