Recently found by viaLibri....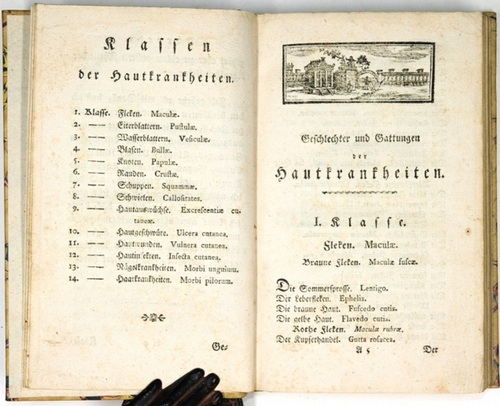 Lehre von den Hautkrankheiten.
1789. Aus dem Lateinischen übersetzt von F. August Wasserberg. - Zweite verb. Auflage. Wien, bey Rudolph Gräffer, 1789, 8°, Titelvignette, 200 pp. und (4) Blätter Register nach Geschlechter), feiner Halbledereinband; feines Expl. BEGRÜNDER DER SYSTEMATISCHEN DERMATOLOGIE! Seltene Deutsche Ausgabe! Dieses 200 Jahre alte Buch ist ein Klassiker der modernen Dermatologie. Es war das erste Werk über Hautkrankheiten, das eine große Beachtung fand, weil es eine bestimmte Ordnung in die bis dahin herschende Verwirrung der Begriffe brachte. Joseph Jacob Plenck (1738-1807), Professor in Wien und Buda, gründete die Einteilung der Hautkrankheiten auf ihre spezifische Erscheinungsform und die hauptsächlichsten Typen der verschiedenen Erkrankungen. Plenck kennt 115 Hautkrankheiten, die er in 14 Klassen unterteilt. Später wird WILLAN, der das Plencksche System aufnimmt, die Einteilung auf 8 Gruppen zusammenstreichen. - Plenck ist der Begründer der systematischen Dermatologie. Alle deutschen Ausgaben sind sehr selten! Plenck, of Vienna, was professor of half a dozen different subjects. In his treatise "Doctrina de Morbis Cutaneis" he classified skin diseases upon the basis of their cutaneous symptoms. "A classification of skin diseases upon the basis of their clinical appearance. Until the time of WILLAN . the greatest authority on dermatology. He mentioned 115 skin diseases, and divided them in 14 classes." Garrison & Morton 3982 cf. Schönfeld, 43; Richter 177-78; Hirsch-H. IV, 590; Pusey, Hist. of Dermatology, 57-58; Blake 356; Engelmann 434.
Bookseller:
Antiq. F.-D. Söhn - Medicusbooks.Com
[Marburg, Germany]
Search for more books on viaLibri