Recently found by viaLibri....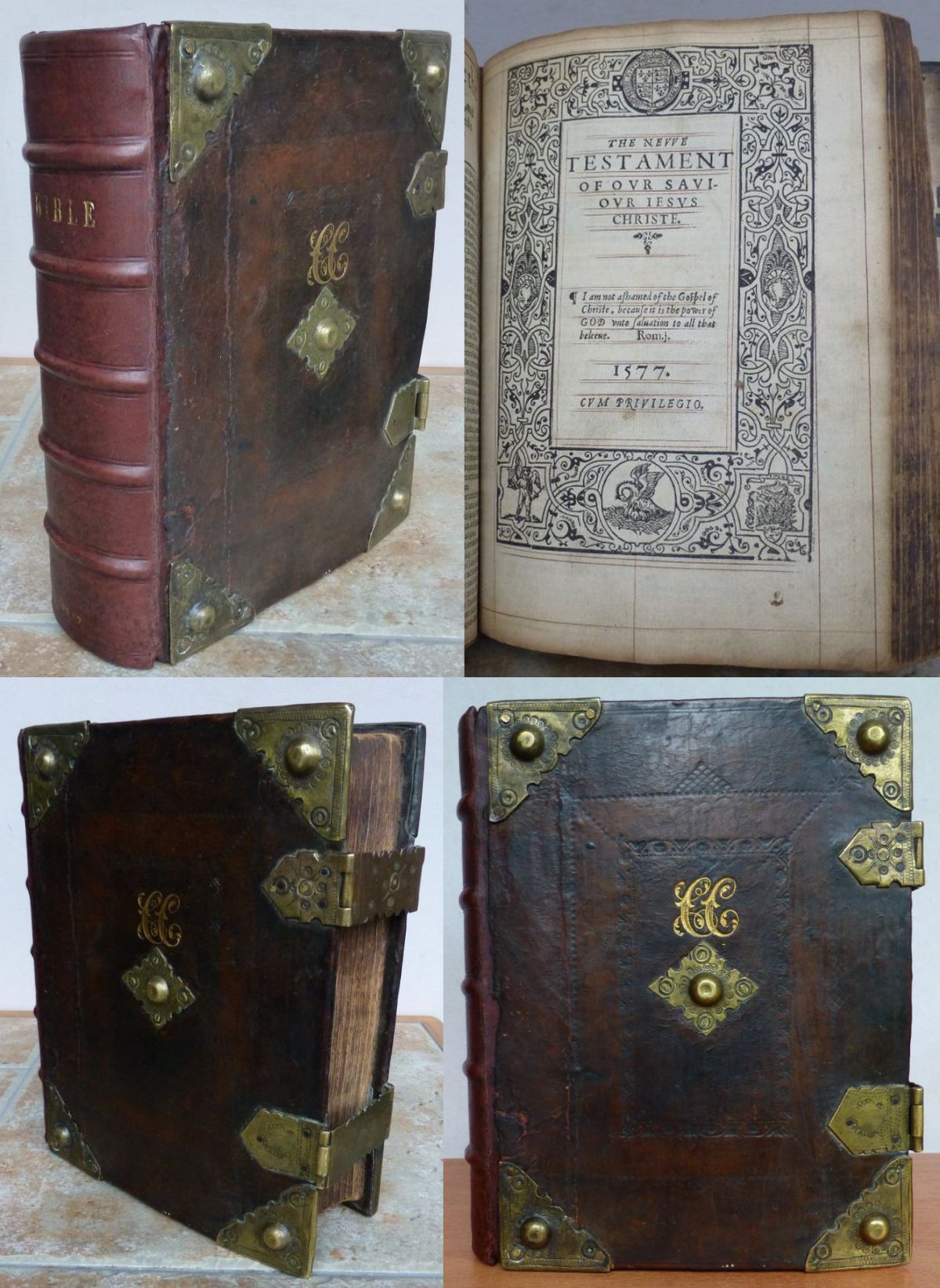 THE HOLY BYBLE ( BIBLE ) CONTEYNING THE OLDE AND NEWE TESTAMENT. Whereunto is joyned the whole service, used in the Church of England. 1577. Set foorth by aucthoritie.
London R. Jugge Printer to the Queenes Majestie. Bishops' version, 1577, LACKS FIRST TITLE PAGE. small 4to, approximately 205 x 155 mm, 8 x 6 inches, title page to New Testament and divisional titles to the second and third parts of the Old Testament, and to the Apocrypha, all have a patterned border with a small royal coat of arms at the top and a pelican feeding its young at the bottom, publisher's device on colophon with pelican and 2 allegorical figures, 1 half page woodcut of the Garden of Eden, 1 full page of the 12 tribes and the Tabernacle, 3 maps in the text and 2 full page maps, historiated initials, pages ruled in red, leaves: [36 of 40], 1-103, [1 - blank]; title page to 2nd part, 106-252; title page to 3rd part, 254-500, 581-592; New Testament, leaves: title leaf, 2-127; Psalmes: title page, pages: [4], 1-99, page 99 misplaced in final section; Final section (Veni Creator, Song of 3 Children etc): [14 of 16], lacks A1. The first part of the Bible LACKS THE GENERAL TITLE and 2 FOLLOWING PRELIM LEAVES ("Preface", and the 2nd leaf of "List of Bookes to Old Testament"), the jump in pagination (500-581) is the same in all copies, nothing is missing; collation: pi6 (-pi1-3 and pi6), ***6, (***2 misnumbered ***3), [cross]4, AI-C8, A-Z8, Aa-Hh8, Ii4, KK-Zz8, Aaa-Sss8, Ttt4; A-P8, Q6. The NT is followed by The Metric Psalms printed in London by John Daye 1577. Bound in old panelled calf, rebacked with raised bands and gilt title and date, boards cornered in decorated brass with a single boss, small central decorated brass lozenge with single boss to both boards, decorat … [Click Below for Full Description]
Bookseller:
Roger Middleton P.B.F.A.
[Oxford, United Kingdom]
Search for more books on viaLibri