Recently found by viaLibri....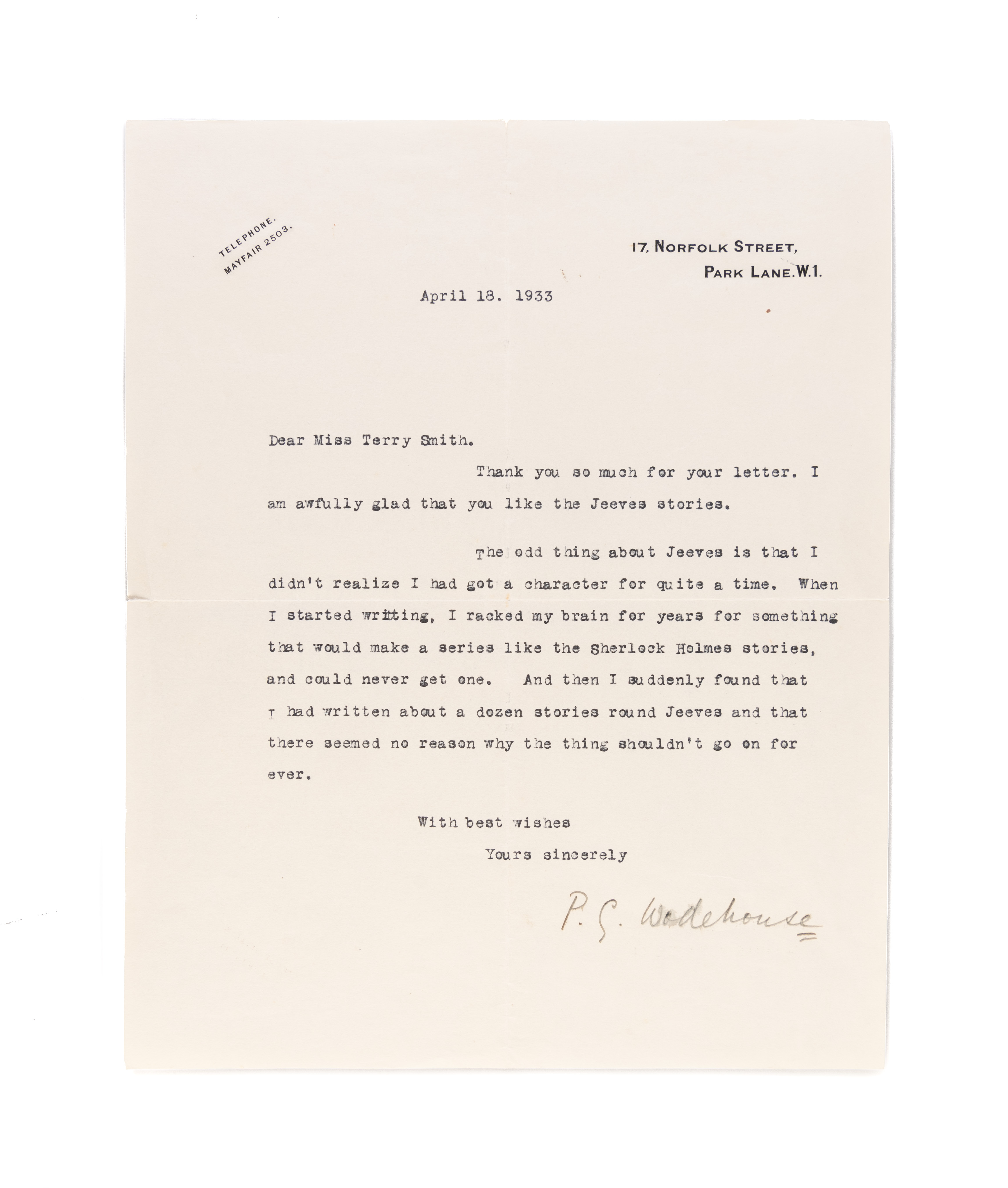 Typed Letter Signed describing the genesis of Jeeves, to a Miss Terry Smith
1 page 4to, 17 Norfolk Street, Park Lane, 18 April 1933 An illuminating letter to a fan about the creation of Jeeves: ?The odd thing about Jeeves is that I didn't realize I had got a character for quite a time. When I started writing, I racked my brain for years for something that would make a series like the Sherlock Holmes stories, and could never get one. And then I suddenly found that I had written about a dozen stories round Jeeves and that there seemed no reason why the thing shouldn't go on for ever.? In Plum Sauce: A P.G. Wodehouse Companion (2003), Richard Usborne highlighted the comparison between Wodehouse and Sherlock Holmes; how Jeeves and Holmes are ?the great brains?, while Bertie Wooster and Dr Watson are ?the awed companion-narrators, bungling things if they try to solve the problems themselves? (pp58-9). Although not overtly, this letter attests to the comparison Wodehouse himself saw between the pair, and, indeed, how he aspired to create a series of similar popularity and longevity to Conan Doyle's masterful creation. Jeeves first appeared in print in 1915 in a short story titled 'Extricating Young Gussy'; his last appearance in one of Wodehouse's works was in 1974, a span of almost 60 years. This letter was written around the time Wodehouse was writing the second full-length novel featuring Jeeves and Wooster, Right Ho! Jeeves (published, 1934). Near fine.
Bookseller:
Maggs Bros. Ltd ABA, ILAB, PBFA, BA
[London, United Kingdom]
Search for more books on viaLibri