Recently found by viaLibri....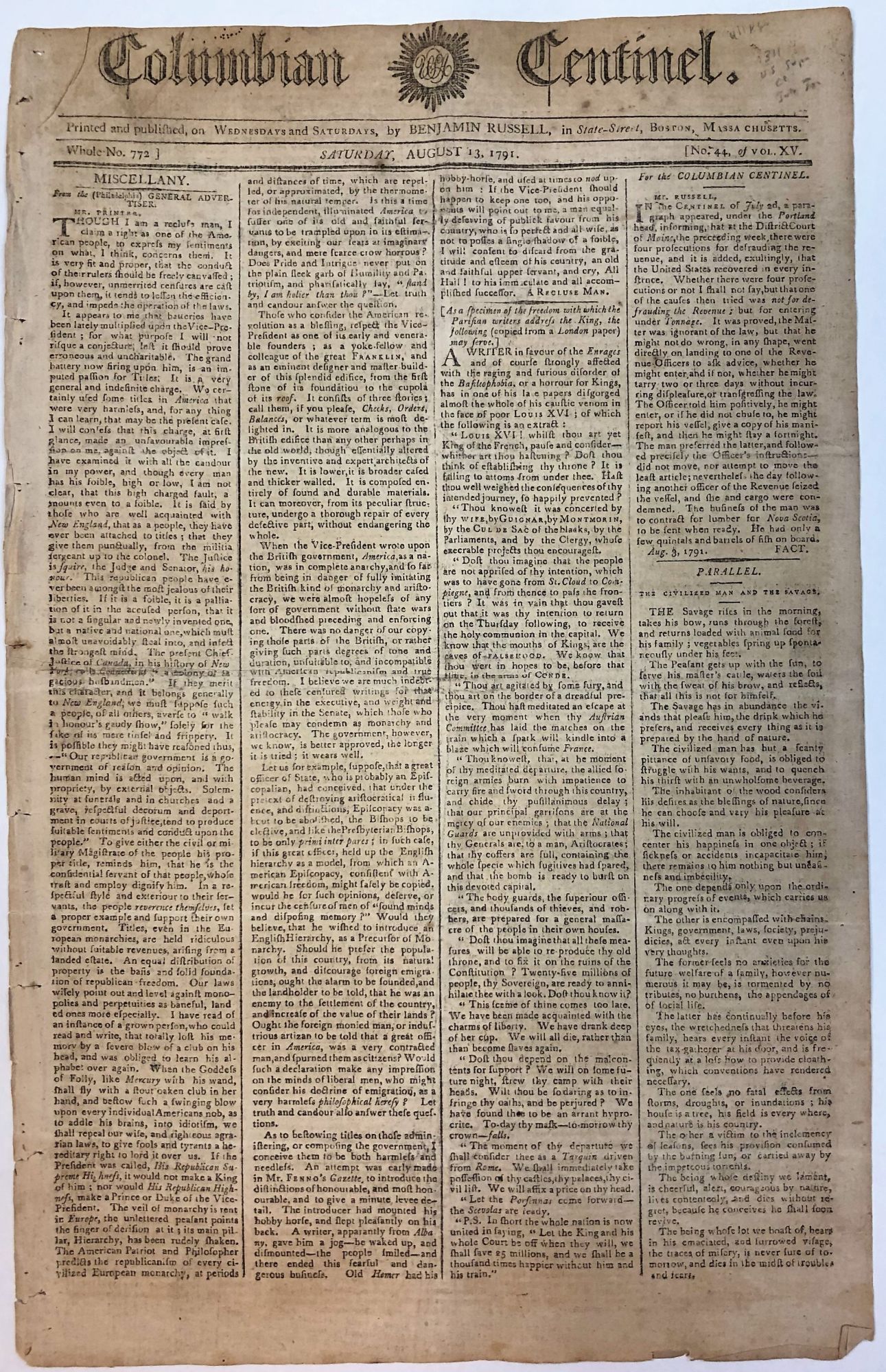 COLUMBIAN CENTINEL. PRINTED AND PUBLISHED ON WEDNESDAYS AND SATURDAYS, BY BENJAMIN RUSSELL, IN STATE-STREET, BOSTON, MASSACHUSETTS. SATURDAY, AUGUST 13, 1791. WHOLE NO. 772. NO. 44 OF VOL. XV
Boston, 1791. Folio, [4] pp, with caption title at first page as issued. Printed in four columns per page. Evenly toned, some dusting, binding holes at blank inner margins. Trimmed closely at top margin with occasional shaving. Good+. Page [3] reports the first oral argument before the Supreme Court, and the Court's first decision. The case was West v. Barnes (1791), argued on August 2, 1791 and decided unanimously on August 3. West sought to pay a Rhode Island mortgage debt with paper currency, rather than in gold or silver. A Rhode Island statute authorized him to do so. But the holder of the mortgage objected to payment in paper currency. The lower court rejected West's actions. Having secured a writ of error from the lower court, West appealed to the Supreme Court. "Not so fast," the mortgage holder's attorney, David Barnes, said. The writ of error must be obtained from the Clerk of the Supreme Court, not from the lower court. The Court-- consisting of Chief Justice Jay, and Justices Cushing, Wilson, Blair, and Iredell-- heard argument on this issue. The Centinel reports the Court's decision: "The next day the Court refused to grant the rule moved for, in the above cause; being unanimously of opinion that writs of errour, to remove causes to this court from inferiour ones, can regularly issue only from the clerk's office of this court." The word 'court' in this quotation has been damaged in this copy of the Centinel. The case is reported at 2 U.S. 401 [1791].
Bookseller:
David M. Lesser, ABAA
[Woodbridge, CT, U.S.A.]
Search for more books on viaLibri