Recently found by viaLibri....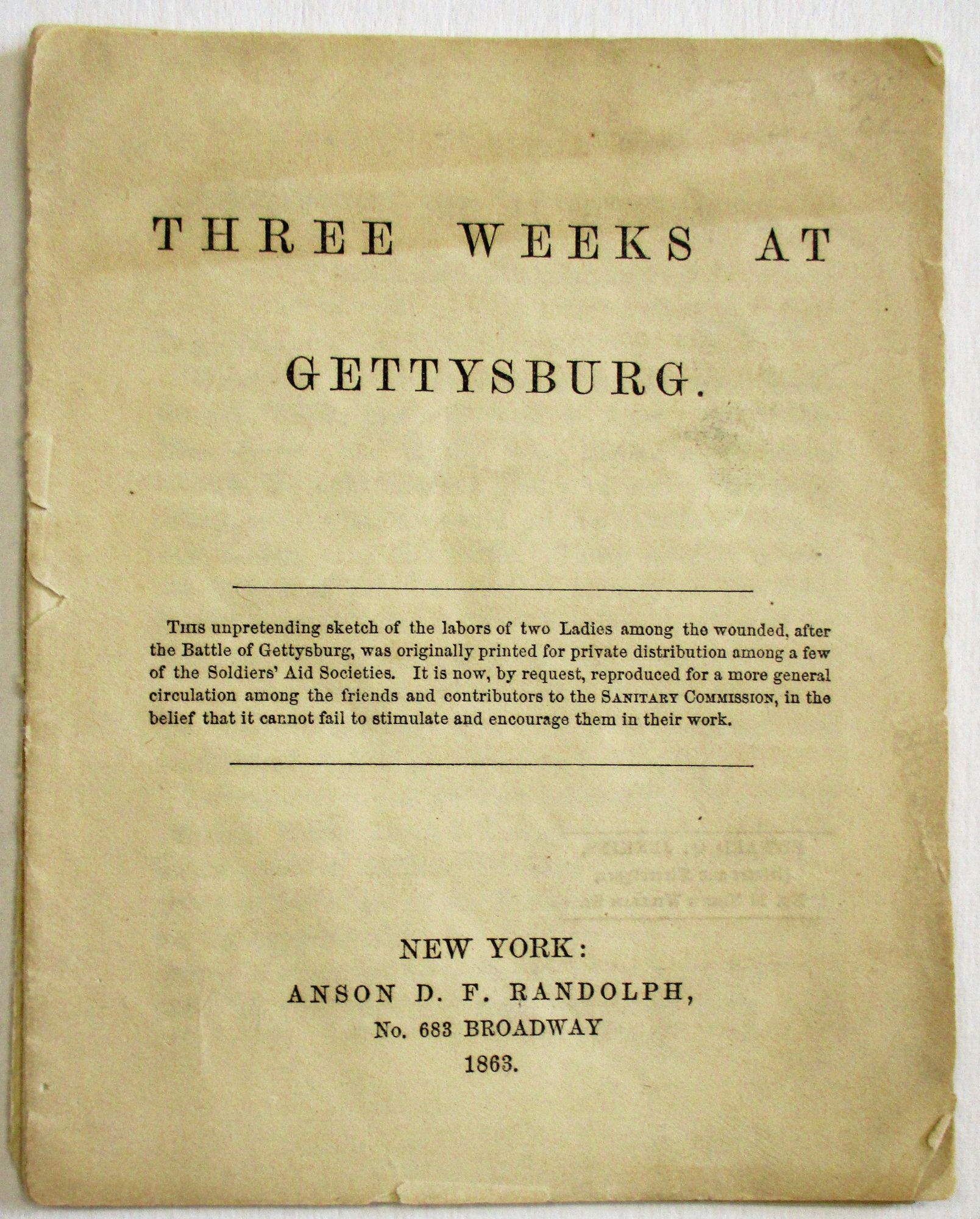 THREE WEEKS AT GETTYSBURG. THIS UNPRETENDING SKETCH OF THE LABORS OF TWO LADIES AMONG THE WOUNDED, AFTER THE BATTLE OF GETTYSBURG, WAS ORIGINALLY PRINTED FOR PRIVATE DISTRIBUTION AMONG A FEW OF THE SOLDIERS' AID SOCIETIES. IT IS NOW, BY REQUEST, REPRODUCED FOR A MORE GENERAL CIRCULATION AMONG THE FRIENDS AND CONTRIBUTORS TO THE SANITARY COMMISSION, IN THE BELIEF THAT IT CANNOT FAIL TO STIMULATE AND ENCOURAGE THEM IN THEIR WORK
Anson D.F. Randolph, New York, 1863. Square 12mo. 24pp. A clean text, stitching broken with first and last leaves loosened. Very Good. The pamphlet, in the form of a letter dated July 1863, recounts "What we did at Gettysburg, for the three weeks we were there." Bacon was a nurse; she reports graphically on the overwhelming numbers of wounded and dying men-- "rebels and Unionists together"-- the misery that "these poor fellows" endured, and the heroic work of nurses and surgeons. After-effects of the horrific battle are explained in clinical, yet emotional detail. The courageous author did not shrink from any task which the circumstances required. "A year after the War, on June 7, 1866, Georgeanna Woolsey was married to Dr. Francis Bacon, Professor of Surgery at the Yale Medical School.For the next forty years, Georgeanna took an active part in numerous projects in the New Haven community. With her husband she was one of the principal founders of the Connecticut Training School for Nurses, established in the New Haven Hospital in June 1873-- one of the earliest schools on the Nightingale plan. Her 'Hand Book of Nursing for Family and General Use', published by the school in 1879, had a wide circulation among hospitals, nursing schools and the public" [James et al., NOTABLE AMERICAN WOMEN, 1607-1950, volume 3, page 667 (Harvard U. Press: 1971)]. II Nevins 120. 134 Eberstadt 196. As of February 2020 OCLC records three locations under two accession numbers: OCLC 495250562 [1- Paris Bib], 53906935 [2- Cornell, E Carolina U].
Bookseller:
David M. Lesser, ABAA
[Woodbridge, CT, U.S.A.]
Search for more books on viaLibri