Recently found by viaLibri....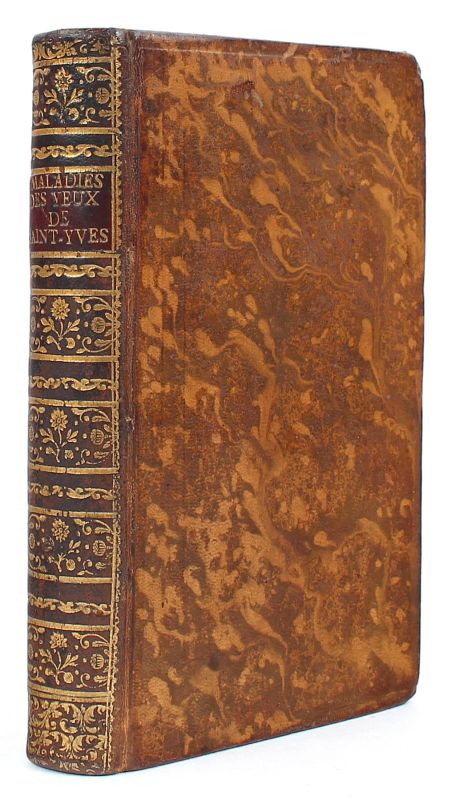 Nouveau Traité des Maladies des Yeux. Où l'on expose leur Structure, leur Usage, les Causes de leurs Maladies, leurs Symptômes, les Remèdes et les Opérations de Chirurgie qui conviennent le plus à leur guérison. Avec de nouvelles Découvertes sur la Structure de l'Oeil, qui prouvent l'Organe immédiat de la Vue. Par Mr. de Saint-Yves, Chirurgien Oculiste de Saint Côme. Nouvelle édition. Augmentée de l'Histoire d'un Remède pour les maux des Yeux, et contre la morsure du chien enragé. Traduit de l'Anglais par M. Cantwel. [Suivi de: "Histoire d'un Remède très efficace pour la Faiblesse et la Rougeur des Yeux et autres Maladies du même Organe avec un remède infaillible contre la morsure du chien enragé par le Chevalier Hans Sloane"].
Amsterdam et Leipzik, Arkstée et Merkus, 1767. Nouvelle édition. 2 Volumes en 1 / Two Volumes in one. Octavo (11 cm x 17 cm). XXXVI, [6], 309, 30 pp. Reliure originale / Original, very decorative 18th century binding with gilt lettering and ornament on spine. Tres bon exemplaire / Unusually excellent version of this book with the publication by Sir Hans Sloane bound in the back of the Volume. Garrison - Morton 5827 (First Edition 1722): "Records the removal of a cataract "en masse" from a living subject". Charles Saint-Yves, or Charles de Saint-Yves, (1667 – August 3, 1731) was a French ophthalmologist, famous for his treatment of the cataract and his treatise on ophthalmology. At the turn of the 17th and 18th centuries, it became more and more clear that sight was not located in the lens, but that the deterioration of the latter was the actual cause of the cataract. In Paris, notably Pierre Brisseau (1631–1717) introduced his conclusions from eye dissection to the Academy of Medicine in 1705, before publishing a Traité de la Cataracte et du Glaucome (Treatise on cataracts and glaucoma, 1709), to be followed by Antoire Maître-Jean (Traité des maladies de l'oeil, Treatise on eye pathologies, 1707). These ideas allowed the introduction of new surgical treatments, and Saint-Yves achieved a first extract of a dislocated lens on a living patient in 1707 and stabilised his operating technique over a couple of hundred cases that first year. He also advised famous surgeon Jean-Louis Petit in his operation of the cataract in 1708. Cataract operation quickly spread in Paris afterward … [Click Below for Full Description]
Bookseller:
Inanna Rare Books Ltd.
[Drimoleague, CORK, Ireland]
Search for more books on viaLibri