Recently found by viaLibri....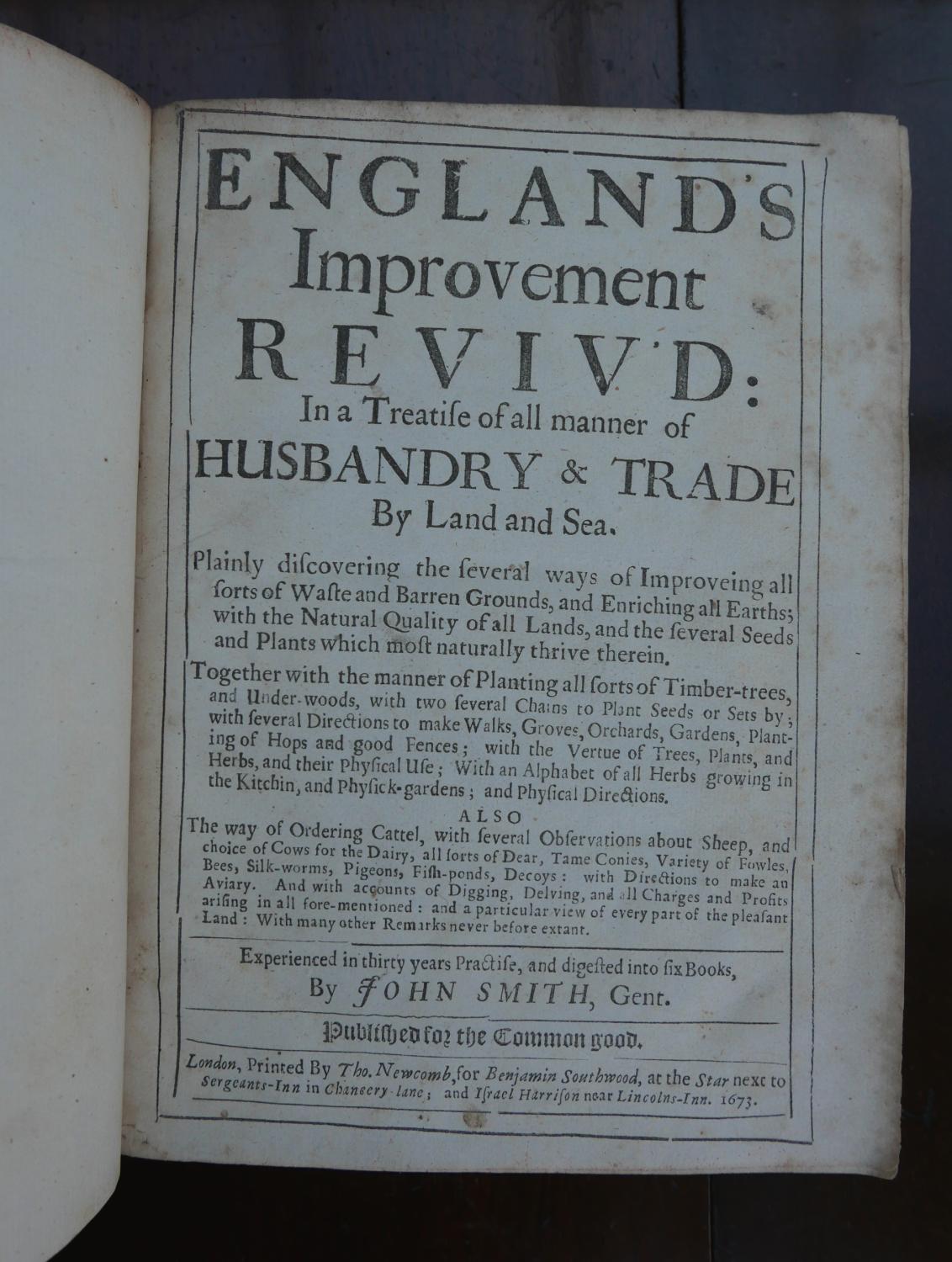 England's Improvement Reviv'd: in a Treatise of all manner of Husbandry & Trade by Land and Sea.
Printed by Tho. Newcomb, for Benjamin Southwood; and Israel Harrison, London, 1673. England's improvement reviv'd : in a treatise of all manner of husbandry & trade by land and sea. Plainly discovering the several ways of improveing all sorts of waste and barren grounds, and enriching all earths; with the natural quality of all lands, and the several seeds and plants which most naturally thrive therein. Together with the manner of planting all sorts of timber-trees, and under-woods, with two several chains to plant seeds or sets by; with several directions to make walks, groves, orchards, gardens, planting of hops and good fences; with the vertue of trees, plants, and herbs, and their physical use; with an alphabet of all herbs growing in the kitchin, and physick-gardens; and physical directions. Also, the way of ordering cattel, with several observations about sheep, and choice of cows for the dairy . : with many other remarks never before extant / Experienced in thirty years practise, and digested into six books, by John Smith, gent. Published for the common good. Sm. Quarto. [14] 270pp. [161-168] numbered 141-148. cut close at head one leaf, light brownig. Contemporary calf [corners worn] rebacked to match. Second edition (first published in 1670).Contemporary Barional Book-plate Alex Thistlethwayte. 'Besides dealing with Forestry, the book is concerned with livestock and the reclamation of waste land. Goldsmiths 2032. Kress S.4093. A Good Copy.
Bookseller:
HALEWOOD : ABA:ILAB : Booksellers :1867
[PRESTON, United Kingdom]
Search for more books on viaLibri