Recently found by viaLibri....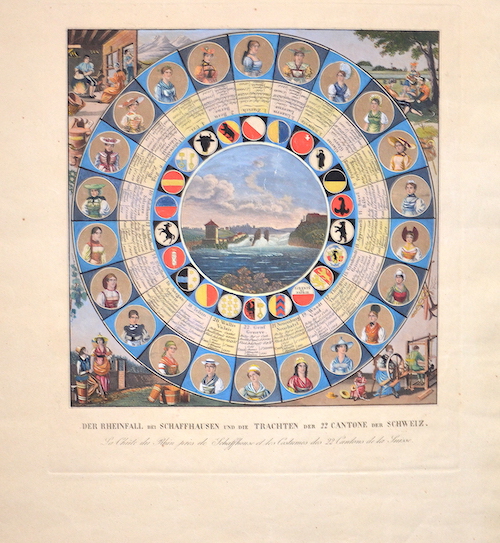 Der Rheinfall bei Schaffhausen und die Trachten der 22 Cantone der Schweiz.
Artist: Anonymus; issue date: ca, 1820. technic: Copper print- Aquatinta; colorit: gouache; - condition: Perfect condition, WIDE-MARGINED; size (in cm) 32,5 x 29 cm; Collection sheet from Switzerland. In the middle view of the Rhine Falls near Schaffhausen, surrounded by traditional costumes from the 22 cantons of Switzerland. There are also four marginal representations, such as a weaving mill, viticulture, cheese dairy and a picnic during the harvest.Since 1848, the Swiss Confederation has been a federal state of relatively autonomous cantons, some of which have a history of confederacy that goes back more than 700 years, putting them among the world's oldest surviving republics.The early history of the region is tied to that of Alpine culture. Switzerland was inhabited by Gauls and Raetians, and it came under Roman rule in the 1st century BC. Gallo-Roman culture was amalgamated with Germanic influence during Late Antiquity, with the eastern part of Switzerland becoming Alemannic territory. The area of Switzerland was incorporated into the Frankish Empire in the 6th century. In the high medieval period, the eastern part became part of the Duchy of Swabia within the Holy Roman Empire while the western part was part of Burgundy.
Bookseller:
Antique Sommer& Sapunaru KG
[München, Germany]
Search for more books on viaLibri