Recently found by viaLibri....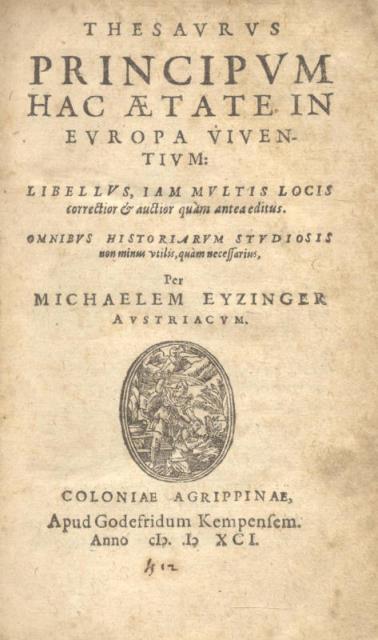 THESAURUS PRINCIPUM HAC AETATE IN EUROPA VIVENTIUM. Libellus, iam multis locis correctior & auctior quàm antea editus. Omnibus historiarum studiosis non minus vtilis, quàm necessarius, per Michaelem Eyzinger Austriacum.
Apud Godefridum Kempensem, Coloniae Agrippinae, 1591. Testo latino. Opera dedicata a Johann Drenkwaert. Cm.15,9x10,8. Pg.(16), 263, (1). Legatura in mz.pelle, priva del dorso, con piatti marmorizzati. Lievi usuali bruniture. Marca calcografica con l'angelo che ferma Abramo durante il sacrificio di Isacco. Due risvolti cartacei all'inizio del testo che lasciano ipotizzare la rimozione di due carte, ma esemplare completo, verificato sulla copia digitalizzata della Biblioteca Statale di Cremona. Seconda edizione, di un anno successiva alla prima, di un significativo studio genealogico del diplomatico austriaco Michaël Eytzinger, o von Aitzinger (Obereitzing, 1530 circa - 1598). Si tratta di un saggio in cui si ricostruisce la genealogia di 34 famiglie regnanti europee, importante perché introduce i principi di un nuovo sistema denominato "Ahnentafel", in uso ancora oggi, che introduce un metodo per individuare numericamente le discendenze. Si deve all'Eytzinger la prima rappresentazione cartografica dei Paesi Bassi con il classico "Leo belgicus", utilizzato nel 1583 nell'opera "Novus de Leone Belgico". > Adams, II, E-1178. "Oxford Bibliographical Society Publications", XXII, 105, per l'edizione 1590. L'opera viene curiosamente citata nell'introduzione del volume di Klaus H. Wachtmann "The Roots of Donald Trump - 45th President of the United States". 250 gr. [Attributes: Hard Cover]
Bookseller:
studio bibliografico pera s.a.s.
[LUCCA, Italy]
Search for more books on viaLibri