Recently found by viaLibri....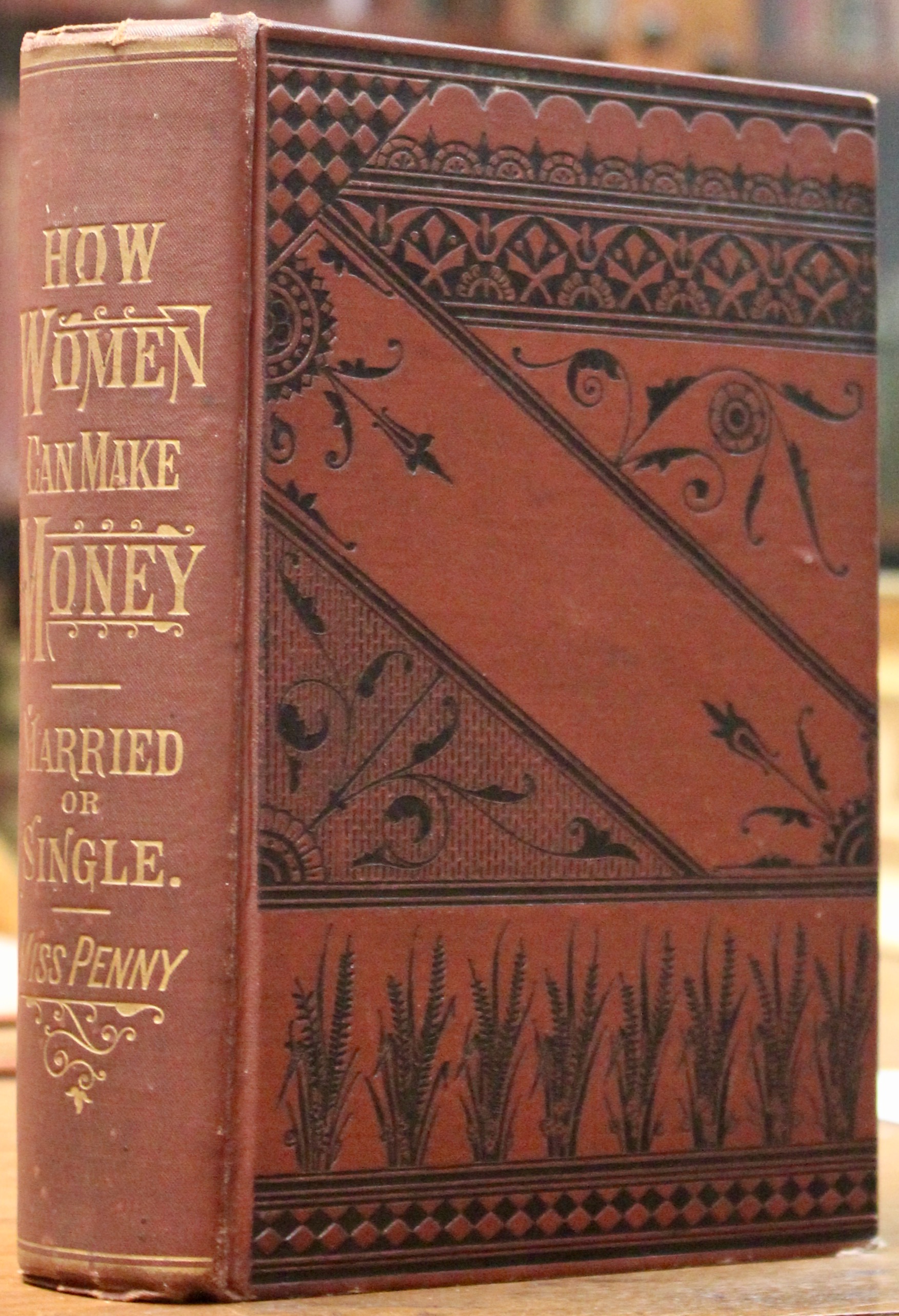 How Women Can Make Money, Married or Single, in All Branches of the Arts and Sciences, Professions, Trades, Agricultural and Mechanical Pursuits.
Philadelphia: John E. Potter, [ n.d., ca. 1880]. The present work discusses the required qualifications, pros and cons, and job expectations of over five hundred career options for women. Many of the entries include testimonies by women working in those careers or by employers offering advice to job searchers. Women are encouraged to pursue careers as lighthouse keepers; printers, lithographers, bookbinders, and booksellers; poultry farmers and beekeepers; mineralogists and agriculturists; podiatrists and pharmacists; and manufacturers of firearms, telescopes, surgical instruments, artificial eyes, and more. Virginia Penny (1826 - 1913) was a labor reformer, an early leader of the womenÕs suffrage movement, and a pioneer in the study of womenÕs labor markets in the United States and Europe. PennyÕs ANB entry describes the present work as an Òintensive investigationÓ that Òconsumed years of PennyÕs life; she mailed out thousands of detailed questionnaires to employers, synthesized the quantitative and qualitative responses, and researched in libraries. She visited many businessesÉand personally interviewed workers and employers.Ó PennyÕs books on labor were favorably reviewed by the New York Times and Scientific American, and her book Think and Act: A Series of Articles Pertaining to Men and Women, Work and WagesÊ(1869) was on an early reading list of the American Social Science Association. Penny was also a founding member of theÊKentucky Woman Suffrage AssociationÊand a Kentucky representative of the American Equal Rights Association. Octavo. xvi, 500, xvii-xxiii [table of … [Click Below for Full Description]
Bookseller:
Michael R. Thompson Books, A.B.A.A.
[Los Angeles, CA, U.S.A.]
Search for more books on viaLibri