Recently found by viaLibri....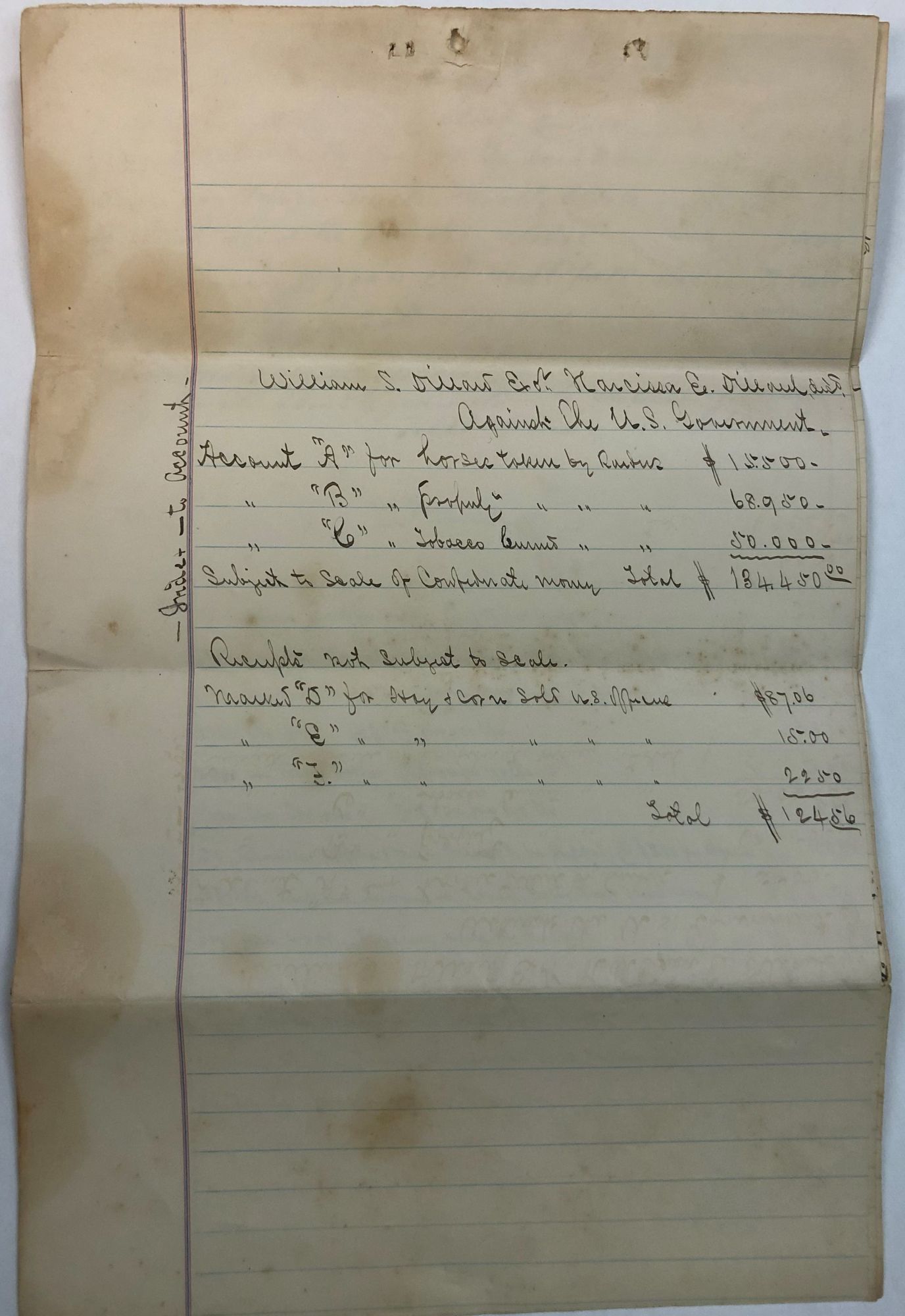 WILLIAM S. DILLARD EX[ECUT]OR NARCISSA E. DILLARD DECD AGAINST THE U.S. GOVERNMENT," CLAIMS FOR DAMAGES CAUSED "BY SHERIDAN'S RAIDERS, 7TH MARCH 1865."
nd], [Nelson County VA, 1865. Four leaves on lined paper, 8" x 12-1/2." One small leaf [titled "Account A"] listing the horses taken by Sheridan's Raiders. All entirely in manuscript. Very Good. The Dillard homestead was in Nelson County, near Charlottesville and Waynesboro, and just east of Lexington. Three pages of accounts, listed as "A," "B,", and "C," claim $15,500 damages for "horses taken by Raiders" [Account A]; $68,950 for "property taken by Raiders" [Account B]; and $50,000 for "Tobacco burned by Raiders" [Account C]. The total, "Subject to scale of Confederate money," is $134,450. Account B lists a variety of property, including a watch, wine, molasses, bacon, agricultural products, valued at "what said property was worth in Virginia money at the time the same was taken. And, is subject to the scale prescribed by law." Account C explains the loss of tobacco "which was burned by United States Soldiers when they took Richmond on the -- day of -- 186-" [omissions in original]. Reference is made to three accounts [D, E, and F] for receipts and offsets to the claimed damages, but those accounts are not included in this archive. The final leaf is the attestation, unsigned and undated ["189-"], in great detail, by "John M. Shelton a Justice of the Peace" for Nelson County. Docketed on the verso, as "Account. for property taken by Sheridans Raiders & others in 1865 &c."
Vendeur:
David M. Lesser, ABAA
[Woodbridge, CT, U.S.A.]
Search for more books on viaLibri