Recently found by viaLibri....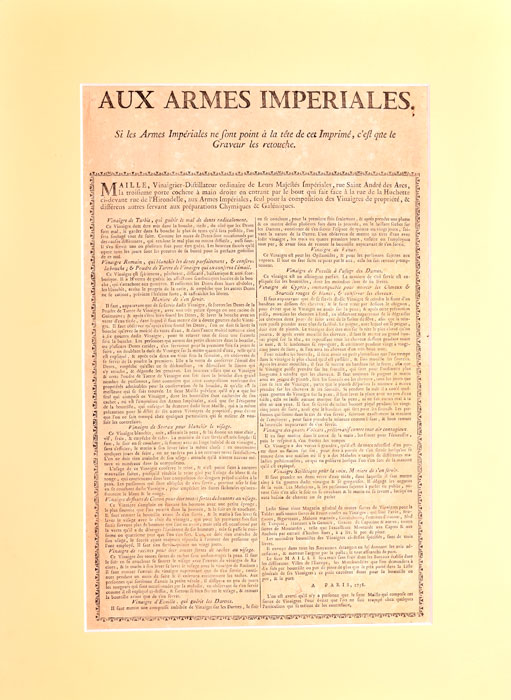 Aux Armes Impériales. Maille, Vinaigrier-Distillateur ordinaire de leurs Majestés Impériales, rue Saint-André des Arts, la troisième porte cochère à main droite en entrant par le bout qui fait face à la rue de la Huchette, ci-devant rue de l'Hirondelle, Aux Armes Impériales, seul pour la compositions des Vinaigres de propriété et différens autres servant aux préparations Chymiques et Galéniques.
Paris, 1758. Small folio poster (36,5cm x 23,5cm). Exceedingly rare poster of the beginnings of the famous Maille brand, a mustard and vinegar-maker company whose products, an symbol of delicatessen, are sold nowadays all around the world. The Maille company was founded in 1747 by Antoine-Claude Maille, a master of vinegar making since 1742 and official provider of King Louis XV and Empress Catherine II of Russia. Maille had in stock more than two hundred cosmetic or flavoured vinegars, vinegars for cooking and various mustards on which were based his success and reputation. This poster contains the description and instructions of use of cosmetic vinegars, one of Maille's specialties ("Vinaigre de Turbie", "Vinaigre Romain qui blanchir les dents parfaitement", "Vinaigre de Storax pour blanchir le visage", "Vinaigre de fleurs de Citron pour ôter toutes sortes de boutons au visage", "Vinaigre de Pucelle à l'usage des Dames", etc). In the end the text also mentions the company's culinary products: "Vinaigres pour la Table...; toutes sortes de Fruits confits au Vinaigre, qui sont Pavis, Brugnons, Bigarreaux, Melons marinés, Cornichons, Pommes d'Amour…; toutes sortes de Moutardes, telle l'excellente Moutarde aux Capres et aux Anchois…". Folding marks, one small tear without loss and another small tear in the center of the document, affecting two letters.
Bookseller:
Librería Comellas
[Barcelona, Spain]
Search for more books on viaLibri