Recently found by viaLibri....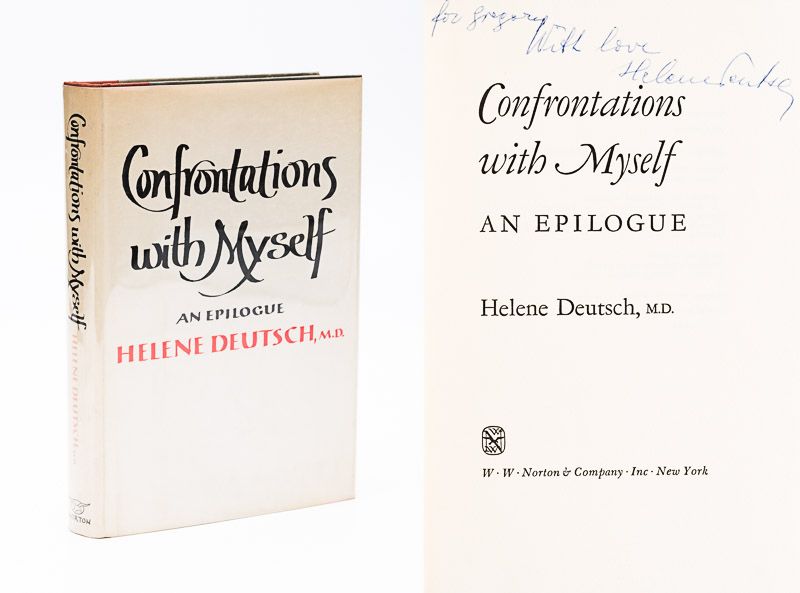 Confrontations with Myself. An Epilogue.
New York, W. W. Norton & Company, 1973. 8°. 217 pages. Illustrated. Original Hardcover with original dustjacket in protective Mylar. Very good condition with only minor signs of external wear. Inscribed / signed by Helene Deutsch on the titlepage. Signed books by Helene Deutsch are of utmost rarity ! Helene Deutsch (née Rosenbach; 9 October 1884 – 29 March 1982) was a Polish American psychoanalyst and colleague of Sigmund Freud. She founded the Vienna Psychoanalytic Institute. In 1935, she immigrated to Cambridge, Massachusetts, where she maintained a practice. Deutsch was one of the first psychoanalysts to specialize in women. She was a Fellow of the American Academy of Arts and Sciences. 'Her best known clinical concept was that of the "as if" personality, a notion that allowed her to spotlight the origin of women's particular ability to identify with others'. Deutsch singled out schizoid personalities who 'seem normal enough because they have succeeded in substituting "pseudo contacts" of manifold kinds for a real feeling contact with other people; they behave "as if" they had feeling relations with other people . their ungenuine pseudo emotions'. More broadly, she considered that 'the "generally frigid" person who more or less avoids emotions altogether . may learn to hide their insufficiencies and to behave "as if" they had real feelings and contact with people'. It has been suggested that it was 'Helene's tendency to love by identifying herself with the object, then experiencing that love as betrayed and running to the next object . [that] she herself explored in her … [Click Below for Full Description]
Bookseller:
Inanna Rare Books Ltd.
[Drimoleague, CORK, Ireland]
Search for more books on viaLibri