Recently found by viaLibri....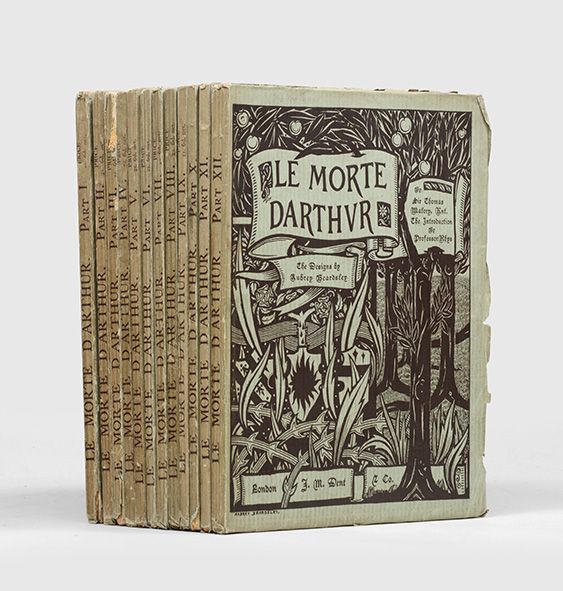 The Birth, Life, and Acts of King Arthur, of his Noble Knights of the Round Table, Their Marvellous Enquests and Adventures the Achieving of the San Greal, and in the End, Le Morte Darthur, with the Dolorous Death and Departing out of This World of Them All. The text as written by Sir Thomas Malory and imprinted by William Caxton at Westminster the Year MCCCCLXXXV and now spelled in modern style. With an introduction by Professor Rhys and embellished with many original designs by Aubrey Beardsley.
Westminster: J. M. Dent, 1893-4. 12 volumes, quarto. Original pictorial printed wrappers. House in two contemporary dark blue cloth boxes using Beardsley's design for the original cloth binding. A near-fine set, a few minor chips to wrappers but the whole set unusually fresh thanks to the box, some minor spotting around page edges. With photogravure frontispieces on India paper, 18 full-page wood engravings with tissue guards (5 double-page), numerous text illustrations and approximately 350 designs for chapter headings and borders (foliate and historiated) all by Aubrey Beardsley. First edition, in the original parts, one of 1,500 ordinary paper copies, of a total edition of 1,800 copies. The parts are housed in the only such blue cloth boxes, with a signed manuscript note by Pollit noting it as such. In 1892, seeking to emulate the books of the Kelmscott Press, John M. Dent commissioned the 20-year-old Beardsley to produce this edition, work that took the young artist 18 months to complete. "In Le Morte d'Arthur Beardsley learnt his job, but the result is no bungling student's work If he had never illustrated another book, this edition of Morte d'Arthur could stand as a monument of decorative book illustration" (John Lewis, The Twentieth Century Book, pp. 148-9). The book was issued in 12 parts in wrappers, with the purchaser given the choice of sending it back to Dent, who bound them in vellum or in this cream cloth case-binding with gilt blocking designed by Beardsley, or to a binder of their own. [Attributes: First Edition; Signed Copy]
Vendeur:
Peter Harrington. ABA/ ILAB.
[London, United Kingdom]
Search for more books on viaLibri