Recently found by viaLibri....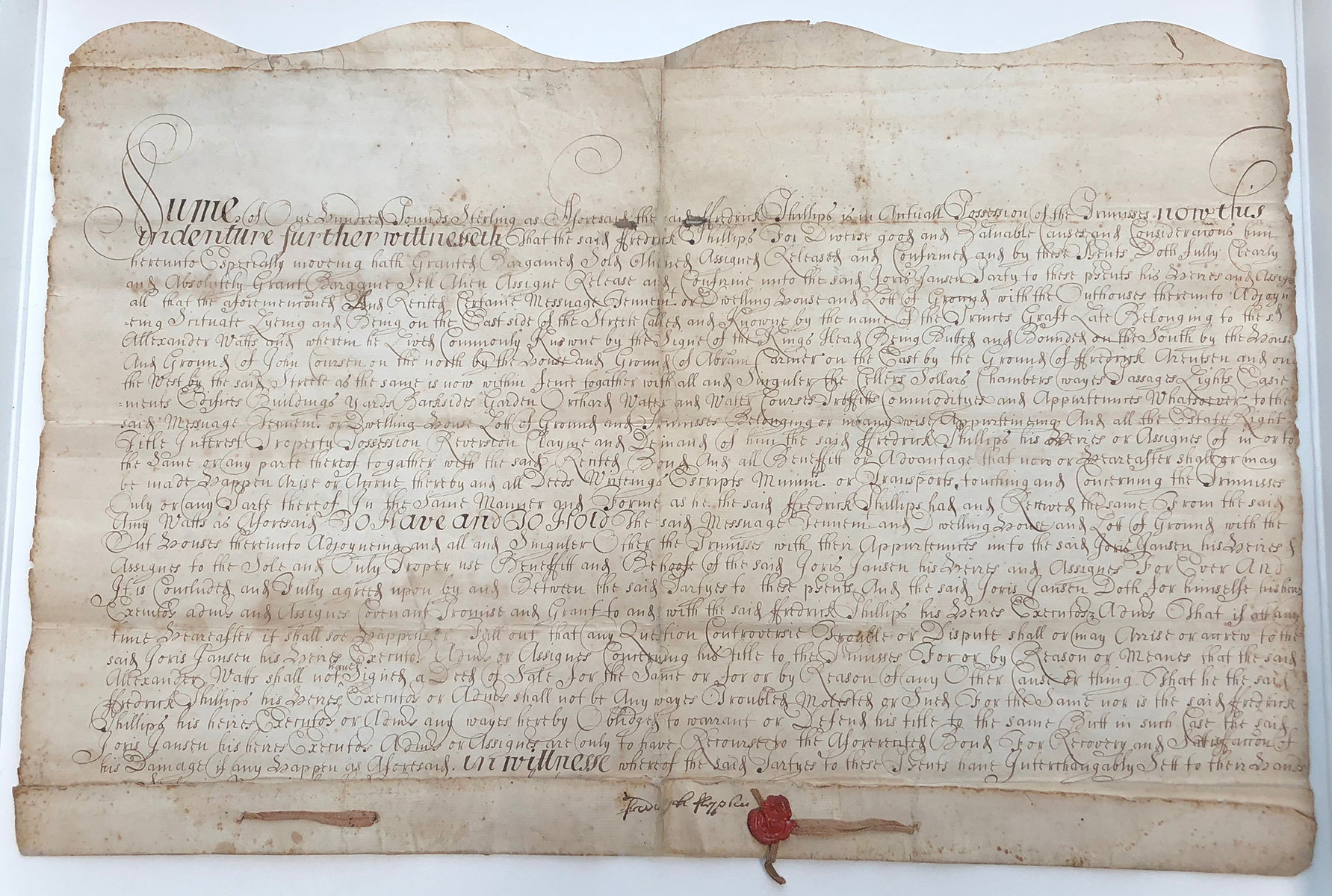 Seventeenth-Century Deed for House and Lot in New York City Signed by Anglo-Dutch Millionaire
Manuscript Document Signed, September 21, 1682. Deed to Joris Jansen for the King's Head property. 2 pp., large folio. Through this indenture, merchant Frederick Philipse sells to boatsman Joris Jansen a house and lot in New York City that Phillips had purchased from Alexander Watts and his wife. Excerpts:"This indenture made this twenty first Day of September in the thirty fourth year of the Reign of our Sovreign Lord Charles the Second by the Grace of God of England and Scottland ffrance and Ireland King Defender of the ffaith &c. And in the year of our Lord 1682 Between Fredrick Phillips of the Citty of New York Mercht of the One part and Joris Jansen of the said Citty Boatsman of the Other part wittnesseth That whereas in and by a Certain writing on [?] of Agreemt made Concluded and Fully Agreed upon by and between Amy Watts Wife and Attourney to Alexander Watts of the said Citty of New Yorke Marriner of the One part and the said ffredrick Phillips of the Other Part Bearing Date the Fifth Day of Aprill 1682 she the said Amy Watts Did thereby Bargain and Sell unto the said ffredrick Phillips all that the Dwelling House and Lott of Ground with the Outhouses Adjoyning Lying and Being on the East side of the Graft Streete within the said Citty.if the said Alexander Watts shall Approve off and Confirme the said Bargain.the said ffredrick Phillips shall Pay or Cause to be paid.the Sum of One Hundred Pounds Currant mony.""now this indenture further witnesseth that the said ffredrick Phillips for Diverse good and Valuable Causes and Considerations him hereunto Especially moving … [Click Below for Full Description]
Bookseller:
Seth Kaller Inc.
[White Plains, NY, U.S.A.]
Search for more books on viaLibri