Recently found by viaLibri....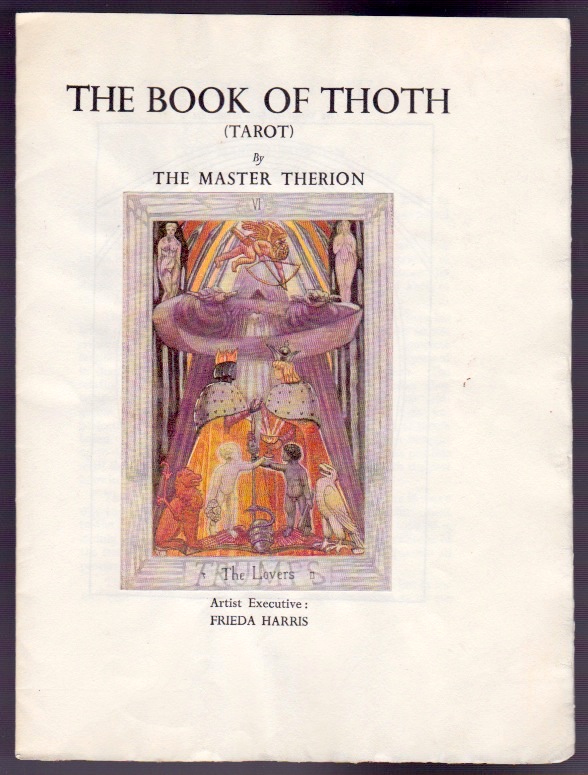 The Book of Thoth (Tarot) : First British Prospectus with Subscription Form, Enclosed in Original Envelope Addressed in the Hand of Aleister Crowley, with an Exemplary Example of the Beast 666 Ankh-af-an-Khonsu Ring Wax Seal
London: Ordo Templi Orientis, 1944. The Rarely Seen, First, and Most Desirable British Thoth Prospectus, in Fine condition. The Lovers "Atu VI" plate, tipped to front, "The Tarot - General Attribution" Tree of Life Illustration to verso. Printed at Chiswick Press, London, N.I I, 8 pp. on Arnold Unbleached Wove. From page 2: "The format [of "The Book of Thoth (Tarot)"] is 10 X 7½ ins. Size of page and type as this prospectus. It is printed on the finest mould-made paper, pre-war quality". Rarely found Subscription Form Laid in as called for, and in Very Fine condition indeed. All enclosed in the Original Mailing Envelope Addressed in Crowley's Hand, Posted to James Laver Esq. Victoria & Albert Museum. Large envelope (10½ x 8), with blue pencil cross to front and back, split on sides (see scan). On the verso, The Beast 666's Ankh-af-na-khonsu Ring Wax Seal. A Remarkably Fine Impression, Without Loss. On this Prospectus, so Finely produced during wartime restrictions, Crowley to Gerald J. Yorke, " it seems that I may have technically infringed one of those fool regulations about sending out prospectuses free of charge, but luckily The Book of Thoth is No. 5 of Vol III of The Equinox, which constitutes it a periodical and therefore not subject to the paper control at all. Of course it is very trivial and technical: but considering how I have been framed up in the past, and how many wolves are out after my blood, I must confess to more than a little apprehension." (2 Nov 1944, Yorke Collection, see - Kaczynski/Perdurabo, 2010, p. 530 ). Provenance: Addressed in A.C.'s Hand to Bo … [Click Below for Full Description]
Bookseller:
Gates Past Books Inc.
[NY, NY, U.S.A.]
Search for more books on viaLibri