Recently found by viaLibri....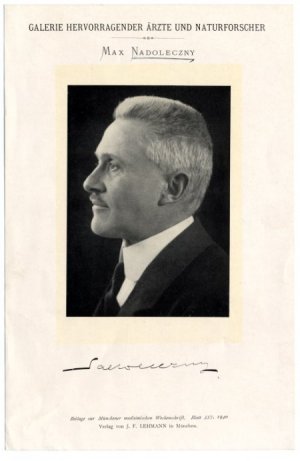 Portrait, Brustbild, Photographie, Lichtdruck 8,5 x 12 cm.
GhA, 557. - Beil. Münch. med. Wschr. - München, J.F. Lehmann Verlag, 1940, 16 x 24,5 cm. Max Nadoleczny (1874-1940) was a student of Haug, Schech, Gradenigo, Gutzmann senior and Lermoyez. He worked in Munich for four decades, went on to form the branch of phoniatrics and continued the Gutzmann school. As from 1903, he organized vacation courses, free of charge, for speech/language disabled schoolchildren without means in Munich. He foundet, on the order of Heine, a department for speech/language and voice patients at the Munich university hospital for ear patients in 1910 . On recommendation of H. Gutzmann senior, he qualified as a university lecturer (Ph.D.) in 1922. He, too, declined a call to Berlin after Gutzmann had died. In 1928, he received a lectureship as professor for speech/language and voice pathology from the Bavarian government. Nadoleczny mastered the complete field of phoniatrics as to research, teaching and medical care. He was a brilliant speaker, a sought-after teacher and a good doctor. In 1925, he founded the Deutsche Gesellschaft fuer Sprach- und Stimmheilkunde, which he conducted as their president up to 1936. The Kaiserliche Leopoldinische Deutsche Akademie der Naturfoscher ("Leopoldina") in Halle appointed him their member shortly before his death. He published more than 125 scientific contributions." Gutmann-Festschrift (198) by Juergen Wendler et. al.
Bookseller:
MedicusBooks.Com
[Germany]