Recently found by viaLibri....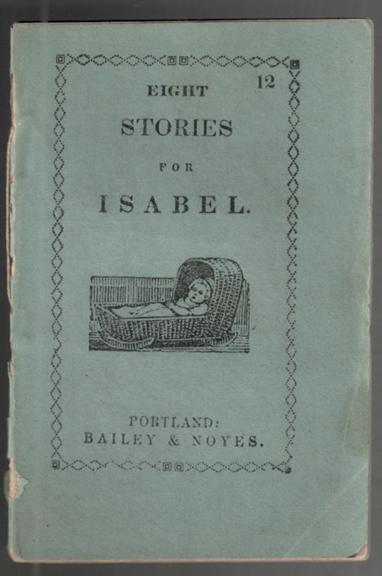 EIGHT STORIES FOR ISABEL
Portland Bailey and Noyes circa 1825. First edition 15 illustrations 12 mo, publisher's original paper wraps, illustrated. 16 pp. A very well preserved copy AN ILLUSTRATED CHAPBOOK WITH AN EXTREMELY EARLY CHILDREN'S BOOK DESCRIPTION OF A STEAM-POWERED BOAT. "Here is a Steam Boat. Sailing on the water. How fast she moves. She is carried along by wheels. See the smoke coming from the chimney. There is a great fire in the boat, and large boilers, which hold sixty hogsheads of water; and when this water boils, the steam comes from it so swift and strong that it can be made to move the great wheels which are on the outside of the boat, and these great wheels have wide paddles to them, that are all the time beating water back." This children's book is called a chapbook, a more modern term that derives from the chapmen. Chapmen were pedlars who hawked their goods in towns and villages, and at country fairs. In 1553, Edward VI proclaimed that champmen must be licensed and Chettle, in Kind Hart's Dreame (1592) wrote that "'Chapmen are able to spred more pamphlets.then all the booksellers in town.'" Although they sold other wares, too, they always had cheap booklets, sometimes ballad sheets which eventually assumed the familiar form af a miniature booklet, with a paper cover thatusually had a picture. Even Shakespeare, in Henry IV, mentioned the chapmen as did Urquhart's Rabelais in 1653. With the growth of small printers, miniature editions of old favourites could be printed. While chapbooks were ostensibly designed to help children learn how to read, they often broached adult subje … [Click Below for Full Description]
Bookseller:
Buddenbrooks, Inc.
[Newburyport, MA, U.S.A.]
Search for more books on viaLibri