Recently found by viaLibri....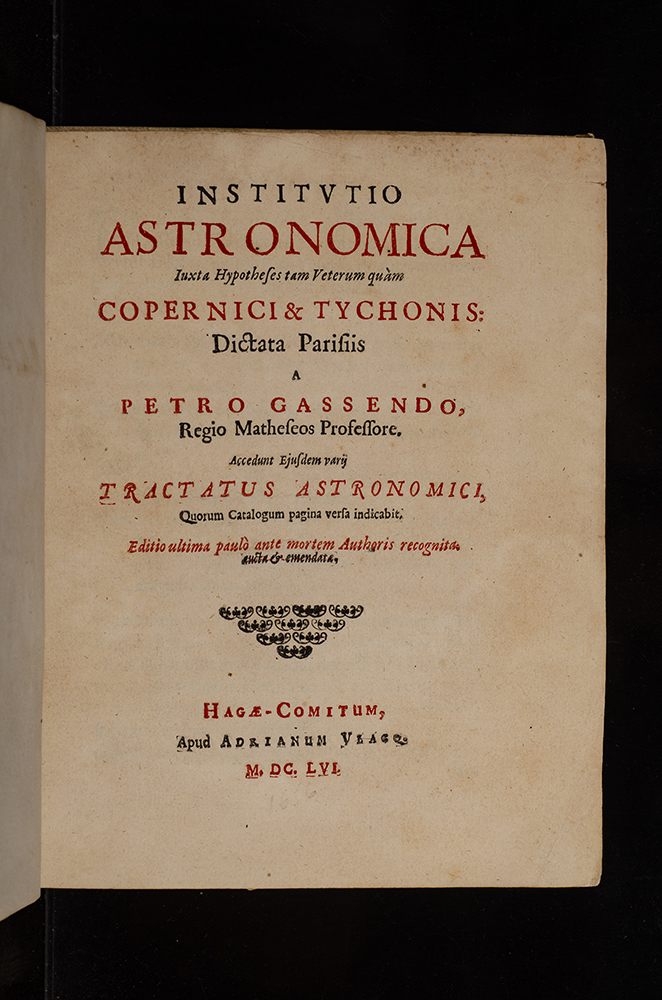 Institutio Astronomica Iuxta Hypotheses tam Veterum quàm Copernici & Tychonis
The Hague: Adrianum Vlacq, 1656. Best Edition of Gassendi's Contribution to Copernican Astronomy GASSENDI, Pierre. Institutio Astronomica luxta Hypotheses tam Veterum quàm Copernici & Tychonis: Dictata Parisiis a Petro Gassendo, Regio Matheseos Professore. Accedunt Ejusdem varii Tratatus Astronomici, Quorum Catalogum pagina versa indicabit, Editio ultima paulò ante mortem Authoris recognita, aucta & emendata. Hagae-Comitum [The Hague]: apud Adrianum Vlacq, 1656. Third and Best Edition, Revised, Enlarged and Amended. Small quarto (7 7/8 x 6 inches; 200 x 155 mm). [12], 328, [8] pp. With numerous woodcuts throughout, some full page, all included in the pagination. Complete with woodcut portrait of the author. Title-page of Institutio printed in red and black. Small ink spots on final leaf, just touching a few letters. Contemporary full yapp-edged vellum, spine with manuscript title, marbled endpapers, all edges sprinkled red. With the early ink signature of Michael Herminia? on front blank. A wonderful copy of Gassendi's revised, enlarged and amended work on traditional astronomy, published the year following his death in 1655. Best edition of Gassendi's contribution to Copernican Astronomy. A series of Astronomical Tracts by Gassendi. Each with their own title-page, but the pagination is continuous for all titles. Third edition overall of the Institutio, first edition thus of all these works together as a collection. "Final edition shortly before the author's death revised, enlarged and amended." (translated from the title-page). We could find no other complete copy of this … [Click Below for Full Description]
Bookseller:
David Brass Rare Books, Inc.
[Calabasas, CA, U.S.A.]
Search for more books on viaLibri
LINK TO THIS PAGE:
https://www.vialibri.net/years/books/258796580/1656-gassendi-pierre-copernicus-nicolaus-brahe-tycho-institutio-astronomica-iuxta-hypotheses-tam-veterum
Browse more rare books from the year 1656