Recently found by viaLibri....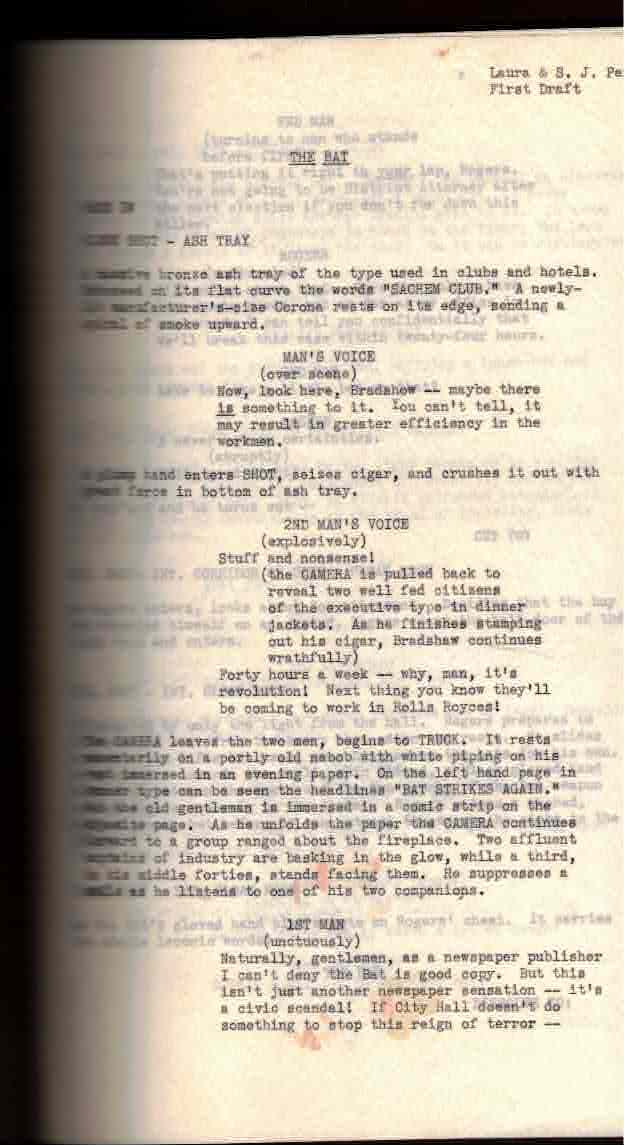 The Bat". Screenplay
Hollywood, 1940. First draft typescript (ribbon copy on Fidelity onion skin paper). 84 pages. Brad-fastened into textured paper covers from The Orsatti Agency, with typed cover label. Screen adaptation of the popular 1920 play by Mary Roberts Rinehart and Avery Hopwood, which itself was adapted from her 1908 classic mystery "The Circular Staircase". A silent version had been produced in 1926, and a 1930 version was entitled "The Bat Whispers" served as an inspiration to Bob Kane in the creation of Batman. James Roosevelt, son of the President, who had no experience in motion pictures, set up a production company in late 1939 and hired the Perelmans to write this first film he wanted to produce. They began work on January 29 and by February 26, when the picture (along with Roosevelt's entire plan to produce feature films) was abandoned, they had written 108 pages. (Cf. S.J. Perelman letter to Augustus Goetz, Jan. 27 and Feb. 26, 1940, published in Don't Tread On Me.). A comparison with the published play shows that action in our typescript corresponds very roughly to acts one and two. As far as we can tell, this is the only surviving relic of what might have been an interesting dramatic version.
Verkäufer:
Thomas A. Goldwasser Rare Books (ABAA)
[San Francisco, CA, U.S.A.]
Search for more books on viaLibri