Recently found by viaLibri....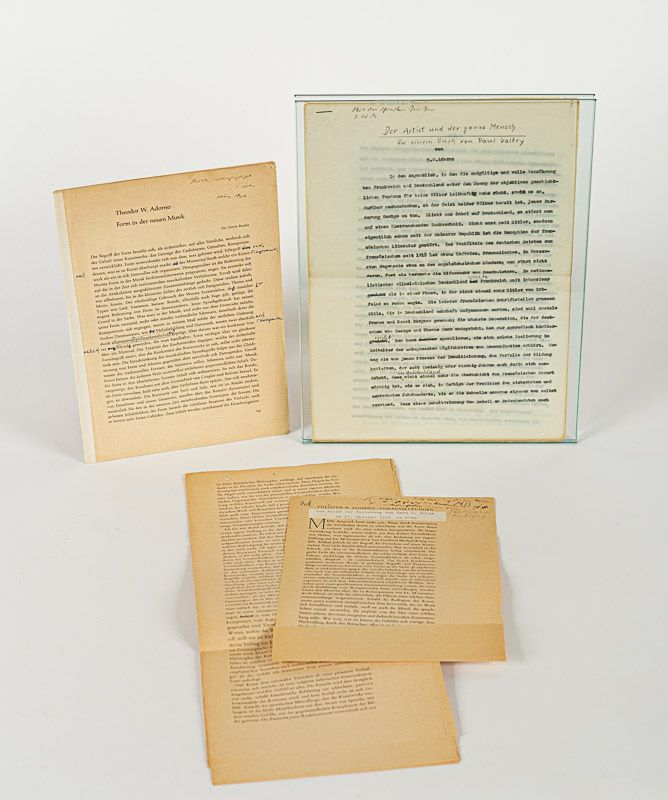 Collection / Sammlung von zwei signierten und mit Annotationen versehenen Sonderdrucken und einem ausfuehrlich bearbeiteten Typoskript von Theodor W. Adorno "zu einem Buch von Paul Valery"). Die Sammlung enthaelt: 1. Theodor W. Adorno - "Der Artist und der ganze Mensch - [Entwurf] Zu einem Buch von Paul Valery" - (17 DIN A4 - Seiten mit sehr vielen, handschriftlichen Korrekturen und Einschueben von Adorno. Das Typoskript ist mit einer handschriftlichen Widmung von Adorno versehen und auch von Ihm wie ueblich signiert ("Mit den schönsten Grüßen T.W.A." / c.1953 - ) - Die endgueltige Publikation dieses Entwurfs erfolgte im November 1953 im "Merkur" unter dem Titel "Der Artist als Statthalter" / 2. Theodor W.Adorno - Voraussetzungen - [Originale Druckfahnen] Aus Anlass der Vorlesung von Hans G.Helms am 27.Oktober 1960 in Koeln - Mit Notizen und schwer lesbarer Widmung von Adorno aus dem Jahre 1961 [Mit 14 hs. Korrekturen sowie mit dreizeiliger Widmung von Teddie [Adorno], datiert im April
[Frankfurt], c.1953 - 1966. Octavo (Separatdrucke) und Quarto (Typoskript). Original Softcover. Theodor W.Adorno - Collection, annotated and signed by Adorno and in very good condition with only minor signs of external wear / Sehr guter Zustand. This stunning collection of three separate presentation-copies by the towering figure of the Frankfurt School, Theodor W. Adorno, is unusual in its composition. The important and fantastic find is the very long typescript, which was composed in 1953, only a few years after Adorno's return from exile and starts with Adorno's interpretation of the regained and renewed friendship between Germany and France after World War II, reflected in the writings of Valéry and Proust, Stefan George and Thomas Mann etc. Adorno is touching on the disruptions within french literature and he compares the relationship between France and Germany to something we can also see in the rivalry of siblings. While Adorno in his historical contexts even goes as far back as 19th century Karl August Jochmann he then returns to juxtaposing Arnold Schoenberg's and Paul Valery's aesthetics ("In Valery's aesthetic resides a metaphysics of the bourgeoise" etc. etc.). Towards the end of the essay we learn of Adorno's real intentions, we can feel how he is still shook to the core by everything that happened during his exile and how he wishes to trigger his audience to understand that Valery's oeuvre is expecting his readers to question, not accepting to experiencing a "dumbing-down", being aware not to be "forced into complacency" not "mitlaufen" / not to become a "Mitl … [Click Below for Full Description]
Bookseller:
Inanna Rare Books Ltd.
[Drimoleague, CORK, Ireland]
Search for more books on viaLibri