Recently found by viaLibri....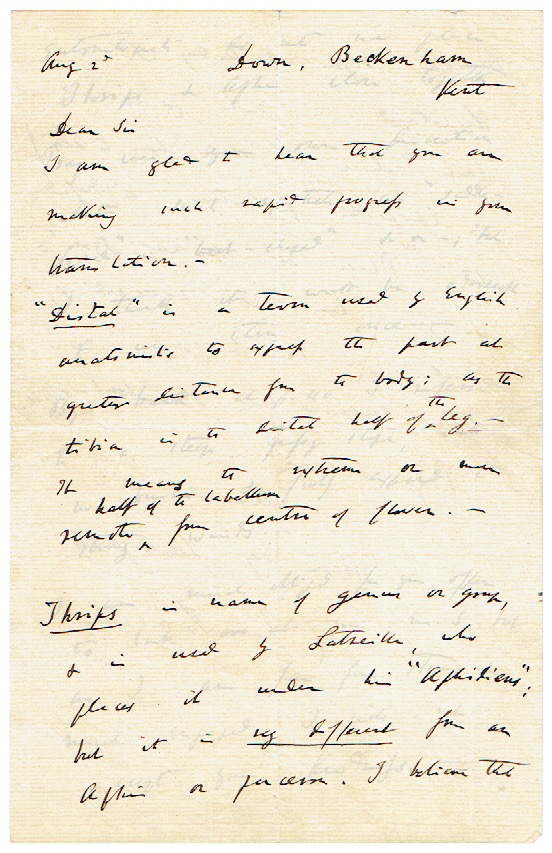 Autograph letter signed.
Down Beckenham (Kent), Aug. 2, 1869. 8vo. 3 pp. Double sheet. Darwin gives the definition of ?distal? and explains what ?thrips? are. He further suggests that Rérolle uses his descretion in his translation of Orchids about certain descriptive phrases such as ?saddle-formed?, but suggests he use them each at least once.?I am glad to hear that you are making such rapid progress in your translation. ,Distal? is a term used by English anatomists to express the part at greater distance from the body. [?] It means the extreme or most remote half of the labellum from the center of flower. [?] ,Thips? is name of genre or group and is used by Latreille who places is under his ,aphidiens?;but it is very different from an aphis or puceron. I believe the entomologists do not now place thrips and aphis close together [?]? - He declines offer to look over his translation as ?I am much obliged for your offer to look at your m.s. but as I am [?] to much engaged, I will not acept?. Louis Rérolle (1848-1928) was curator at the Museum of Natural History in Grenoble. He had undertaken to translate Darwin's work, De la Fécondation des orchidees par les insects and the good results of crossing, which was to be published in Paris by the publisher Reinwald in 1870.
Bookseller:
Kotte Autographs GmbH
[Roßhaupten, Germany]
Search for more books on viaLibri