Recently found by viaLibri....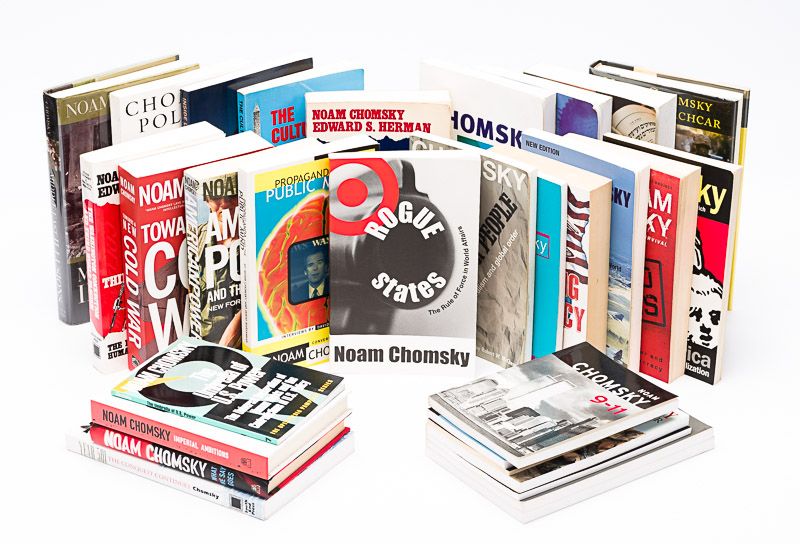 Collection of 39 (thirtynine !) personally signed books by Noam Chomsky, focusing on his linguistic and analytical philosophy as well as on his political activism and political criticism, anarchy, propaganda, criticism of the united states government etc. The collection includes paperbacks and some Hardcover-publications as well.
Cambridge / London / and others, South End Press / Cambrigde University Press / Oxford University Press / Mouton & Co. and many others, c. 1966 - 2002. Octavo. c. 4500 pages. Original Hardcover and Softcover. Very good condition with only minor signs of external wear. Original signatures in each book by Noam Chomsky are on endpapers or titlepages, never on a later tipped-in card or similar methods. Amazing and valuable collection of one of the most important philosophers of our time. Avram Noam Chomsky (born December 7, 1928) is an American linguist, philosopher, cognitive scientist, historian, social critic, and political activist. Sometimes called "the father of modern linguistics", Chomsky is also a major figure in analytic philosophy, and is one of the founders of the field of cognitive science. He is Laureate Professor of Linguistics at the University of Arizona and Institute Professor Emeritus at the Massachusetts Institute of Technology (MIT), and is the author of more than 100 books on topics such as linguistics, war, politics, and mass media. Ideologically, he aligns with anarcho-syndicalism and libertarian socialism. Born to Ashkenazi Jewish immigrants in Philadelphia, Chomsky developed an early interest in anarchism from alternative bookstores in New York City. He studied at the University of Pennsylvania. During his postgraduate work in the Harvard Society of Fellows, Chomsky developed the theory of transformational grammar for which he earned his doctorate in 1955. That year he began teaching at MIT, and in 1957 emerged as a significant figure in linguistics wi … [Click Below for Full Description]
Bookseller:
Inanna Rare Books Ltd.
[Drimoleague, CORK, Ireland]
Search for more books on viaLibri