Recently found by viaLibri....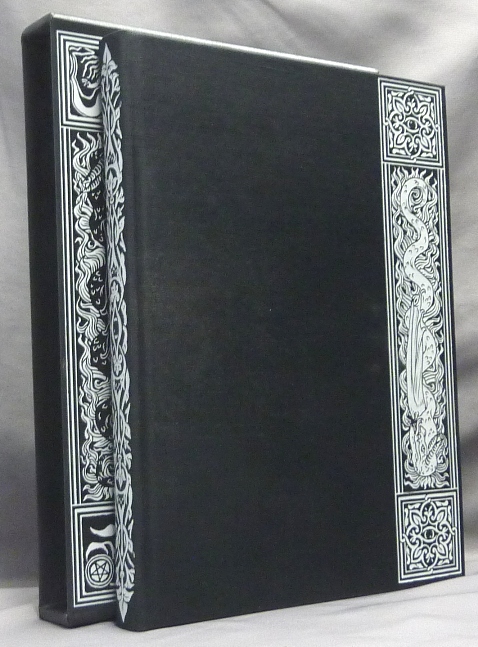 Fosforos: Study on the Being & Essence of Satan and on the Occult Philosophy in Six Parts.
Ixaxaar Occult Literature, Finland, 2013. Hardcover. Small Quarto in matching slipcase. 226pp. Fine black cloth, spine and upper board heavily embellished in white, rear board in black, silvered page edges, endpapers decorated with five-pointed stars on white endpapers. Silver ribbon bookmark. Black cloth slip-case elaborately embellished with magical glyphs etc. in white. This ASTRA MATUTINA (MORNING STAR) EDITION LIMITED TO 145 NUMBERED COPIES. From the Publisher: "One of the most intellectually sophisticated and in-depth texts of modern Satanism/ Left Hand Path and its spirituality ever produced. This valuable occult study plunges the student of the Left Hand Path into a comprehensive philosophical system providing a Study on the Being & Essence of Satan, exploring topics such as the Philosophy of God, Philosophical Anthropology, Eschatology, Metaphysics, Cosmology, and various other subjects of Satanism and Mysticism which guide the serious seeker to a complete worldview. With the aim of total unity and of understanding opposites, considering even the most significant arguments of the downward path of the soul's death in an unbiased way, Fosforos seeks to build on the fundamental doctrine of Oneness: the quintessences of both the Right Hand Path and the Left Hand Path are joined into one - as they have always been, in the heart of a true aspirant. Fosforos begins with the principle of absolute unity, Polyharmonia- The Philosophy of Oneness. The second part, Discordamelior- The Philosophy of Perdition discusses the fundamental problem of seeming duality, the breach withi … [Click Below for Full Description]
Bookseller:
Weiser Antiquarian Books, Inc.
[Cape Neddick, ME, U.S.A.]
Search for more books on viaLibri