Recently found by viaLibri....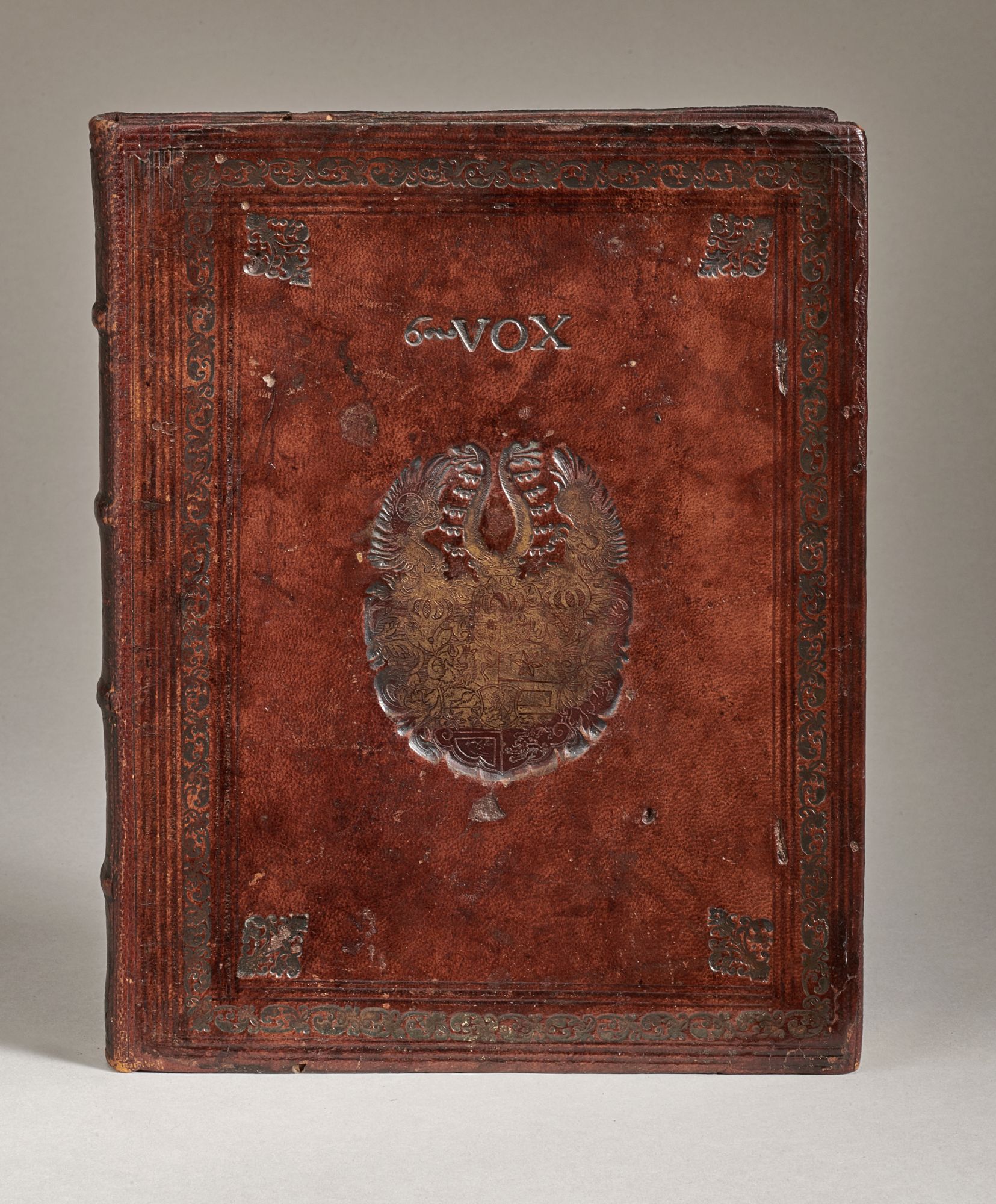 Novum Et Insigne Opus Continens Textus Metricos Sacros: Festorum, Dominicarum, Et Feriarum.Liber Primus. Motetarum Festalium, Octo Vocum. Sexta Vox. [-Liber Secundus Continens Motetas Dominicales.Sexta Vox]
Wilhelm Wessel for Duke Moritz, Kassel, 1604. Bound with: OTTO, Georg. 1550-1618. Opus Musicum Novum, Continens Textus Evangelicos, Dierum Festorum, Dominicarum Et Feriarum.Liber Primus. Motetarum Octo Vocum Sexta Vox. [-Liber Secundus Continens Motetas Dierum Dominicalium, Per Totum Annum.Sexta Vox]. Kassel, Wilhelm Wessel for Duke Moritz 1604. Two parts. 4to. [ii], [48], [2 blank]p. and [ii], [106], [2 blank]p. PRINTED MUSIC, main and divisional titles in fleuron frames. Ad I-II: First Editions, music composed by the Landgrave's Chapel Master, his lead singer and valet and by Landgrave Moritz himself, bound for Moritz with his arms on the front panel and those of his wife on the rear. The volume was intended for court musicians or for presentation to a visiting singer, instrumentalist or dignitary. These are the most important printed works by Geuck and Otto (a slender addition to each collection appeared later). No portion of either is held by an American library. Ad I: Geuck set his patron's tetrastich paraphrases of the Gospels to music as motets. The first part is for feast days and the second for each Sunday of the year. Geuck began service as a boy chorister with Moritz's father, was schooled alongside Moritz by Georg Otto, the Chapel Master and was a star performer among the court musicians. Moritz so esteemed his companion that he made his valet. Geuck's untimely death determined the Landgrave to complete his friend's works and see them into print. Of these seventy-one motets, Geuck composed fifty-two and Moritz nineteen: Otto edited the whole for publication. RIS … [Click Below for Full Description]
Bookseller:
Bruce McKittrick Rare Books, Inc.
[Narberth, PA, U.S.A.]
Search for more books on viaLibri