Recently found by viaLibri....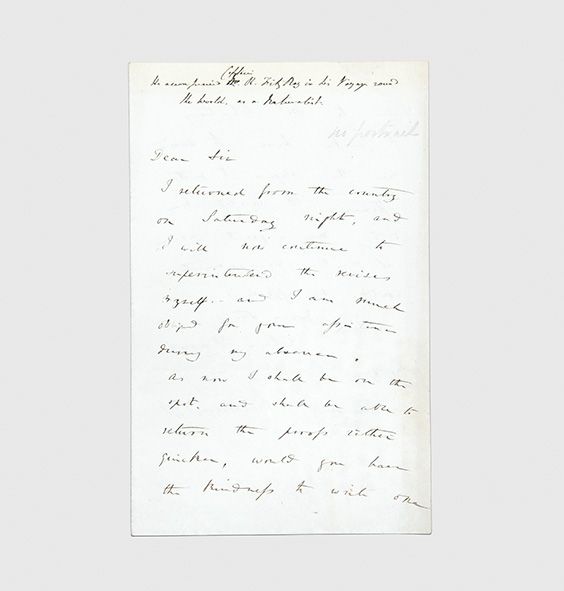 Autograph letter signed, to Henry Colburn.
[late October 1837]. Bifolium, page size 181 x 115 mm, letter on two pages, third blank, fourth page as integral address leaf in Darwin's hand. Two seal chips on address leaf, remains of adhesive tape where previously mounted; head of letter annotated in ink by the collector Mary Hutton: "He accompanied Captain R. FitzRoy in his Voyage round the World, as a Naturalist". An unrecorded early letter from Charles Darwin to his publisher Henry Colburn, regarding the proofing of his upcoming first book, the Voyage of the Beagle, the seminal account of probably the most important voyage in the history of science. Darwin completed the first draft of the book in June 1837, and in late September sent the manuscript to Colburn, before leaving for his family home in Shrewsbury. Colburn agreed to supervise the final proof corrections whilst Darwin was in the country. Upon Darwin's return to his London address in Great Marlborough Street (where Colburn also held his offices), he here cancels the arrangement and takes over the proofing process: "I returned from the country on Saturday night, and I will now continue to superintendend [sic] the revises myself - and I am much obliged for your assistance during my absence". Darwin writes that "now I shall be on the spot, and I shall be able to return the proofs rather quicker", and requests that Mr Whiting send him proof slips more frequently. Darwin has signed "Chas Darwin, Monday Morning, 36 Great Marlborough st.". Darwin's book was printed by early November, where he discovered his error in leaving the supervision of proofing to Colburn: " … [Cliquez ci-dessous pour une description complète]
Vendeur:
Peter Harrington. ABA/ ILAB.
[London, United Kingdom]
Search for more books on viaLibri