Recently found by viaLibri....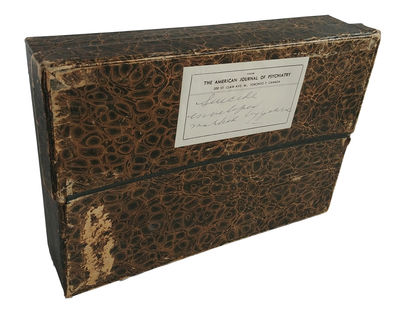 [Small archive relating to suicide reportage in American newspapers]
Various places, 1906-1964. Group of research materials that includes: (1) a tall scrapbook (40 x 28 cm.) with over 170 clipped newspaper reports on suicide, mostly from The Baltimore American and The Baltimore Sun, with some manuscript annotations. And (2) a later collection of clipped suicide reports from New York City (between 1946-1964); approximately 250 of them, housed within a mid-century marbled clamshell box holding 10 letter-mail envelopes organized by specific years. Also included: (3) C. C. Mapes, Influence of the daily press as an incentive to suicide and other crimes, being an offprint from The Medical Age (no. 24), pp. 885-894; and (4) [Programme for Neuropsychiatric Seminar sponsored by the South Carolina Junior Chamber of Commerce at Edgweood Sanatorium, September 15-17, 1949], with [8] pages of contents, including portraits of 30 seminar participants, one of whom was Farrar. Before becoming the long-time Editor of the American Journal of Psychiatry (1931-1965) and the first Director of the Toronto Psychiatric Hospital (predecessor to CAMH), Clarence B. Farrar's own psychiatric research focused on the traumatic, with his most sustained effort concerning the experience and treatment of War neuroses, following from his responsibilities with the Military Hospitals Commission of Canada during WWI. Before the Great War, however, Farrar had been thinking about the psychiatry of suicide, at least since returning to the United States from his graduate studies at Heidelberg, where he worked with Emil Kraepelin, Franz Nisl, and Aloys Alzheimer. He would ultimate … [Click Below for Full Description]
Bookseller:
Etc.
[Canada]
Search for more books on viaLibri