Recently found by viaLibri....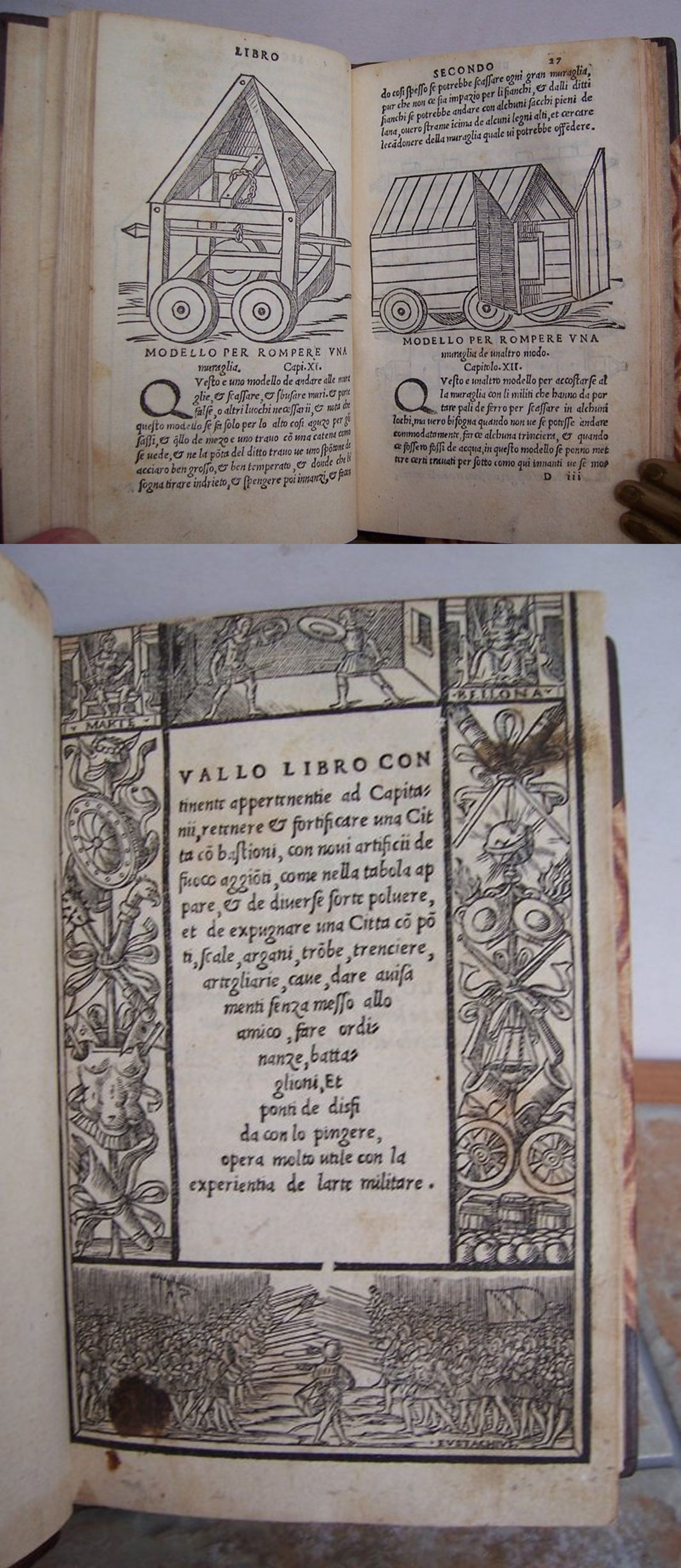 VALLO LIBRO CONTINENTE APPERTENENTIE AD CAPITANII, RETENERE & FORTIFICARE UNA CITTA CON BASTIONI, CON NOVI ARTIFICII DE FUOCO AGGIONTI, COME NELLA TABOLA APPARE & DE DIVERSE S0RTE POLVERE, ET DE EXPUGNARE UNA CITTA CON PONTI, SCALE, ARGANI, TROMBE,
Venice no printer's name Gregorio De Gregori?, 1524. TRENCIERE, ARTEGLIARIE, CAVE, DARE AVISAMENTI SENZA MESSO ALLO AMICO, FARE ORDINANZE, BATTAGLIONI, ET PONTI DE DISFIDA CON LO PINGERE, OPERA MOLTO UTILE CON LA EXPERIENTIA DE L'ARTE MILITARE. SECOND EDITION, 1524, in 4 books, Italian text. Small 8vo, approximately 150 x 95 mm, 6 x 3¾ inches, title page with woodcut pictorial border by Eustachio Celebrino, showing at the top Mars and Bellona, Roman god and goddess of war, 2 soldiers fighting with swords and shields, at the sides weapons and armour and at the bottom 2 armies facing each other, 10 full page woodcut illustrations, 11 illustrations in the text, 1 full page illustration shows fireworks, the others show siege engines, bastions, mines, battering rams, bridges, bellows and diving equipment, 26 typographical diagrams of battle formations, 6 full page, 4 large decorated initials, leaves: [8], 1-71 numbered on rectos only, making a total of 142 pages, lacking final blank leaf, bound in modern half calf over patterned paper boards, raised bands and blind rules to spine, no label or lettering. Title page upper margin cropped close not affecting woodcut border, 2 small inkstains affecting border, occasional pale marks to margins, small ink mark to 1 text page with loss of 2 letters, small stain to another, no loss of legibility, small closed tear to 1 lower margin, tiny paper flaw to 1 lower corner, light brown stain to upper edge of leaves 49-71, small light brown stain to last 3 leaves, no loss of legibility, small margin corner cut from final leaf. A very good copy o … [Click Below for Full Description]
Bookseller:
Roger Middleton P.B.F.A.
[Oxford, United Kingdom]
Search for more books on viaLibri