Recently found by viaLibri....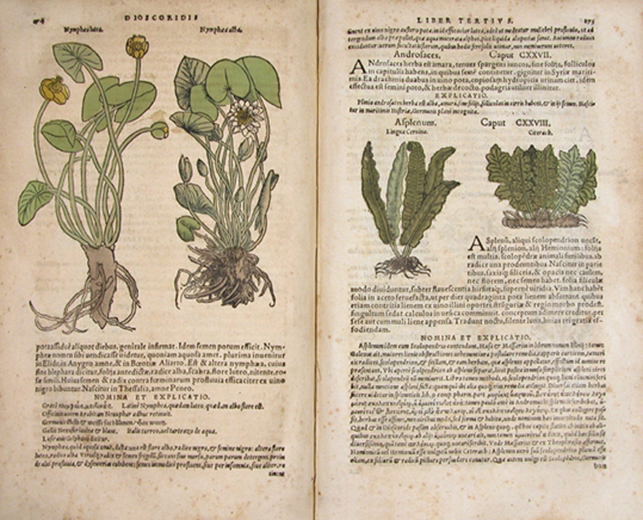 De medicinali materia libri sex, Ioanne Ruellio interprete.
Christian Egenolff, Frankfurt. Frankfurt, Christian Egenolff, 1543. En folio. 2 partes en un volumen. -I: (24), 439 pp., (1) h. -II: (20), 87 hojas. Marca del impresor en portada y última hoja y más de 550 grabados en el texto todos coloreados a mano en la época. Pergamino de la época. Primera edición ilustrada del famoso tratado de botánica y medicina de Dioscorides, editado por Ioanne Ruellio. La segunda parte del libro, con portada independiente, es la primera edición de los comentarios de Lonitzer a los textos de Dioscórides. Ilustrada con más de 550 grabados en madera, muchos de ellos proceden de la edición de Egenolff del Kreuterbuch de Rösslin, otros son copia de la primera edición de De historia stirpium de Fuchs, y el resto están basados en las espléndidas xilografías usadas para ilustrar el herbario de Brunfels. Todos los grabados están finamente coloreados en la época. Para el texto el editor Ruellio se basó en la edición griega de Aldo de 1499. Hunt: "Si hubiera que escribir acerca del más útil libro de botánica que el mundo escolar hubiera conocido durante los últimos dieciséis siglos, al Dioscorides habría que concederle la absoluta primacía sobre todos los demás botánicos". Buen ejemplar en general aunque ligeramente amarronado como es habitual, ligeros puntos de óxido ocasional. El color dado a mano es estrictamente contemporáneo. Referencias: Adams D663; Nissen BBI 495; Pritzel 2307; Wellcome 1784 First illustrated edition with all the woodcuts colored by a contemporary hand. Part two is the first edition of Lonitzer's scholia to Dioscorides. This work empl … [Klicken Sie unten für eine ausführliche Beschreibung]
Verkäufer:
Librería José Porrúa Turanzas S.A.
[Madrid, Spain]
Search for more books on viaLibri