Recently found by viaLibri....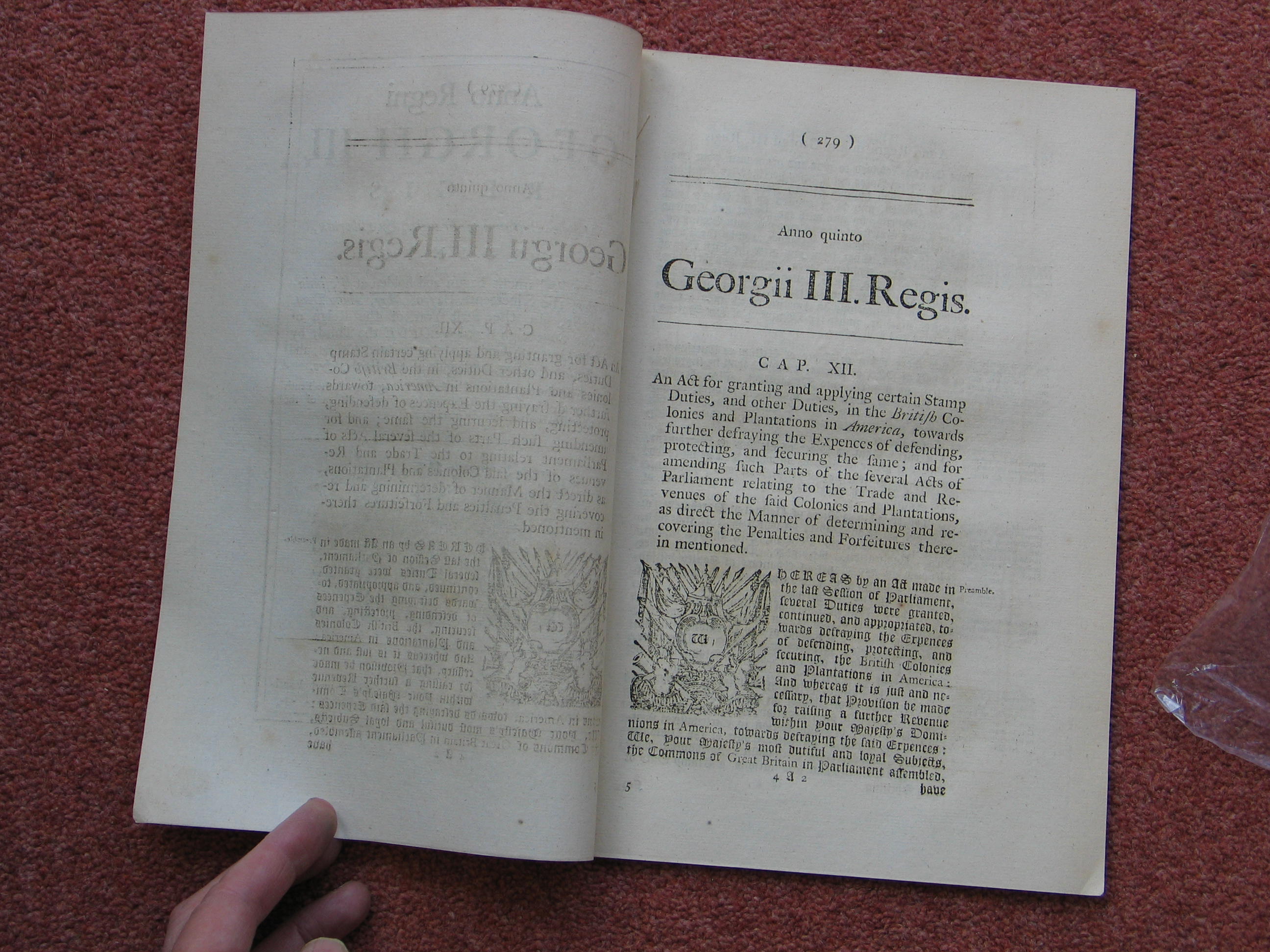 302 America related Acts of Parliament from 1735 to 1819. Includes The Stamp Act, Townshend and Intolerable acts and all the other America related acts within these years. An exceptionally rare Complete run of the first editions of all these acts.
Charles Eyre and William Strahan. 302 British Acts of Parliament concerning America from 1735 to 1819, giving a comprehensive insight into the political activities that changed America. 1765 The Stamp act, ( No Taxation without Representation) used for many years in England and other countries as a tax on paper documents, newspapers or playing cards. This American one was enacted to help pay the 10,000 British troops defending the American colonists from the French, the Spanish and defending the frontier near the Appalachian Mountains. The actual cost of paying the Stamp Duty was small. The colonists objections was not the cost, but the politics of having a tax by British parliament. Acts include:- Better pay and Quarters for the Army, Punishing Mutiny and Desertion, Repeal the Stamp Act , Transportation of Felons to the American plantations, Tea only imported in British Ships, Allowing Free Importation of Grain, Smuggling and Quarrantine, formation of a government in Quebec. The Five acts by Mr. Townshend, Sugar, Liquorice, Fraud, Rum, Tobacco, Coffee, Quakers, Moravian Bretheran, Cottonwool, Bacon, Butter, Rice, Gunpowder, Beaver Skins, Hemp, Indigo, Silk, Relief of the captors of Prizes, Government of Quebec, Quartering act, Paper Bills of credit, naturalizing foreign Protestents. The Boston Port act, limiting trading of certain goods to certain ports (Boston massacre, 5 persons killed), Massachusett's Bay Justice, New England Restraining, Massachusett's Government, the Justice act, Massachuset's act, Amending the Quartering act. Townshend, Customs, Revenue, Mutiny, Inde … [Click Below for Full Description]
Bookseller:
Booksold U.K.
[Surrey, United Kingdom]
Search for more books on viaLibri