Recently found by viaLibri....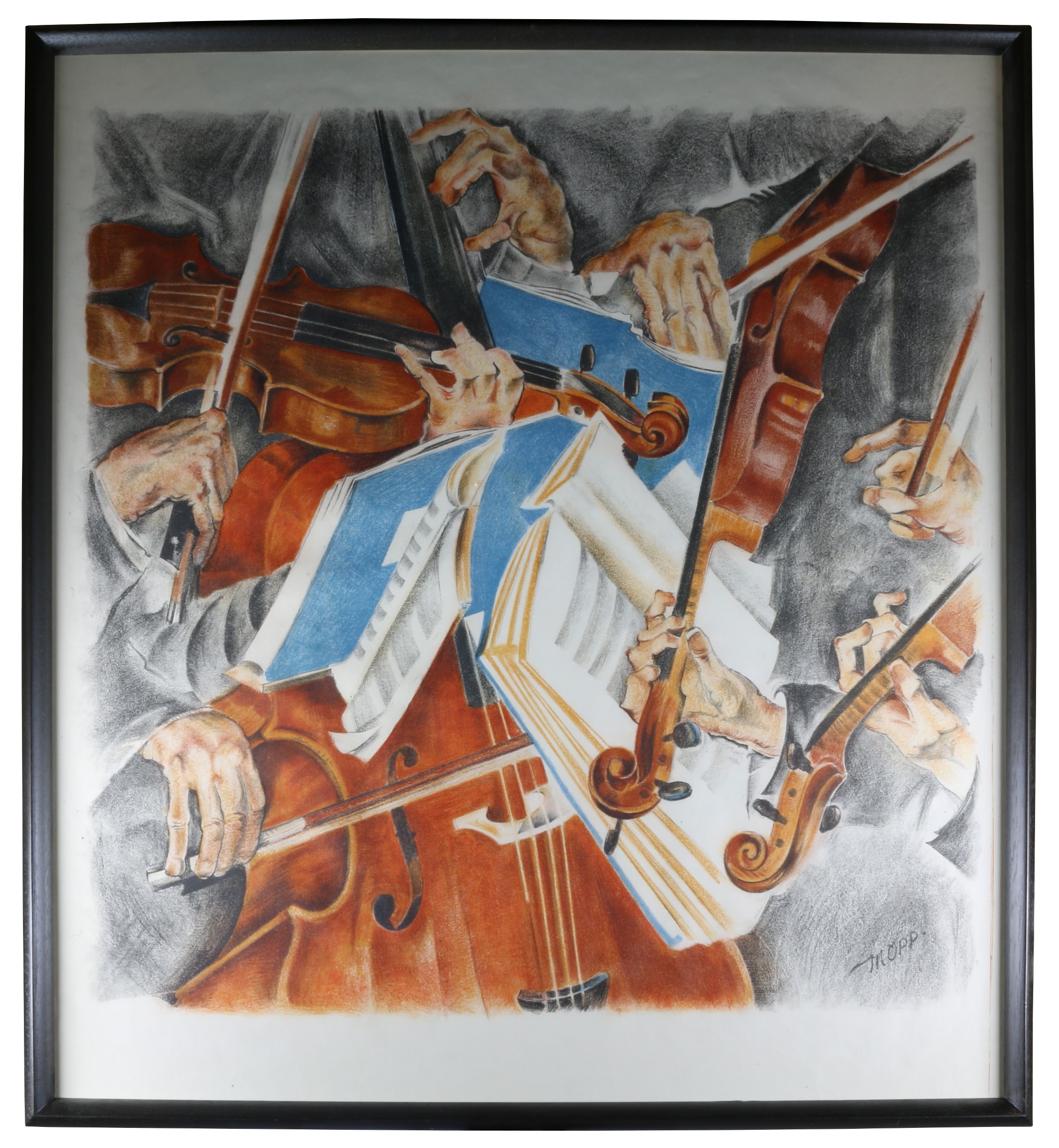 Rosé-Quartett". Original coloured lithograph. Signed in the stone ("MOPP").
S.l.n.d., [ca. 1920]. Ca. 66 x 65 cm on thin cardboard (ca. 76 x 69 cm). Framed and glazed. Expressionist interpretation of a string quartet, radically focused on the interaction of the musicians' hands with their instruments. The sharp lines of the string instruments and bows cross each other vibrantly, only to diverge instantly. In the calmer centre of the near-square composition Oppenheimer placed the sheet music, which forms the basis of the joint musical performance. - The coloured lithograph is a variation of the artist's 1917 painting "Das Klinglerquartett" in Vienna's Belvedere Gallery. Oppenheimer returned to this work when he was commissioned to design a poster for the famous Rosé Quartet. Switching from the original oblong-oval format to a square one allowed the artist to intensify the dynamics of his subject. The lithograph was made during Oppenheimer's time in Switzerland (1915-25), where his artistic interest in music and musicians was kindled. - The Rosé Quartet was founded in Vienna in 1882 by Arnold Rosé and remained until 1945; in the early 20th century the quartet was one of the world's leading ensembles. Their repertoire was based on the works of Haydn, Mozart, and Beethoven, but also included compositions by contemporaries such as Brahms, Korngold, Schönberg, and Webern, several of which they were the first to perform. M. Pabst, Max Oppenheimer: Verzeichnis der Druckgrafik (München: Galerie Michael Pabst, 1993), L 15.
Bookseller:
Antiquariat INLIBRIS Gilhofer Nfg. GmbH
[Vienna, A, Austria]
Search for more books on viaLibri
LINK TO THIS PAGE:
https://www.vialibri.net/years/books/240810992/1920-oppenheimer-max-called-mopp-austrian-painter-rose-quartett-original-coloured-lithograph-signed
Browse more rare books from the year 1920