Recently found by viaLibri....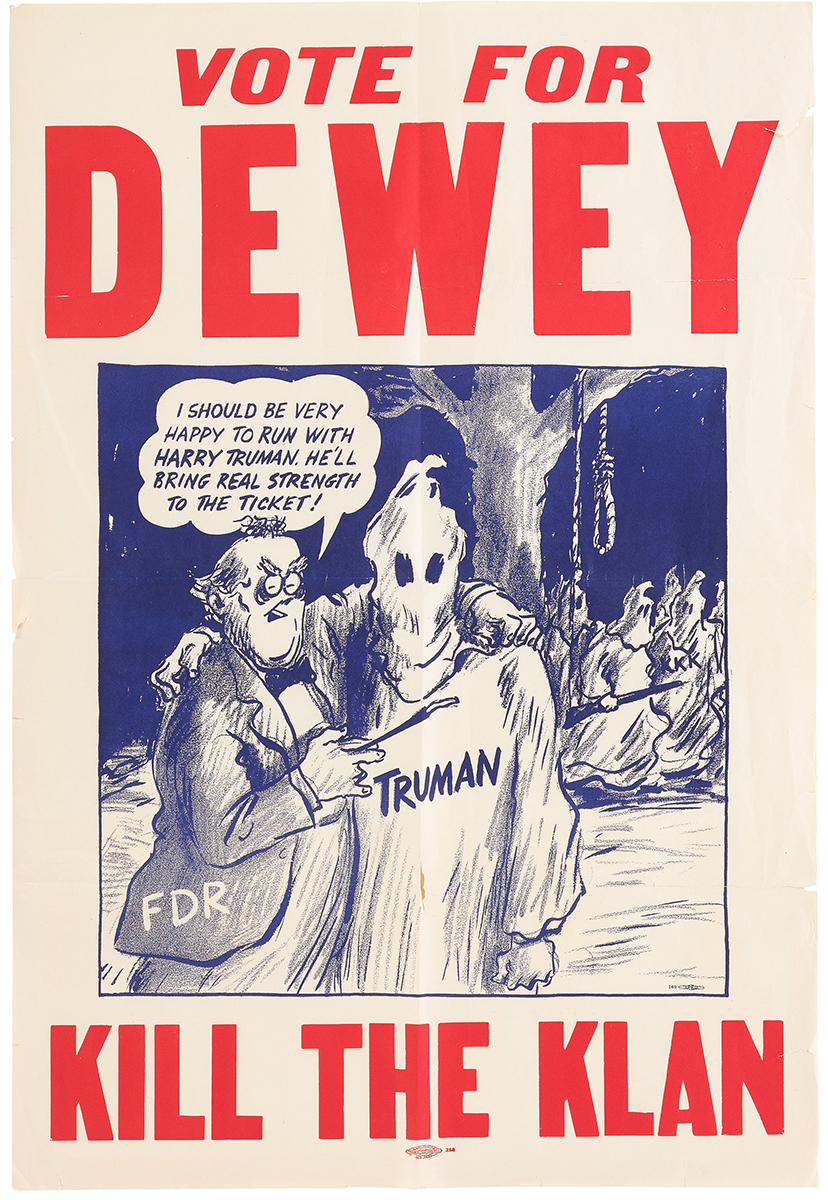 Republican Candidate Dewey Attacks President Roosevelt's Running Mate Harry S. Truman for Alleged Ties to the Ku Klux Klan
1944. Poster. Anti-Truman "Vote for Dewey: Kill the Klan" Presidential Election Poster, picturing Truman in a Ku Klux Klan robe with a lynching party in the background. 1944. 1 p., 28 x 41 in. "I should be very happy to run with Harry Truman. He'll bring real strength to the ticket!"This anti-Klan message would not have helped Dewey in the South; white southerners voted solidly Democratic from 1876 through 1964, while African Americans were prevented from voting. So, this poster was meant to appeal to Catholic and immigrant voters, whom the Klan targeted, as well as to black voters in northern cities. When the 1944 Democratic National Convention re-nominated President Franklin D. Roosevelt for an unprecedented fourth term, delegates dropped Vice President Henry A. Wallace in favor of Senator Harry S Truman of Missouri as Roosevelt's running mate.Republican national chairman Herbert Brownell declared, "The New Deal's dependence on the support of Communists, corrupt bosses and even elements as un-American as the Ku Klux Klan has finally been emphasized in all its ugliness by Senator Harry S. Truman." (A young Harry Truman allegedly joined the Ku Klux Klan in the 1920s, but is said to have ended any association with them after being warned not to appoint any Catholics.)Following the liberation of Paris in August and the Battle of Leyte Gulf in the Philippines in October 1944, Roosevelt and Truman went on to beat Dewey with 53.4 percent of the popular vote and 432 vs. 99 electoral votes. FDR/Truman received about 70 percent of the African American vote, as FDR/Wallace had in 19 … [Click Below for Full Description]
Bookseller:
Seth Kaller Inc.
[White Plains, NY, U.S.A.]
Search for more books on viaLibri