Recently found by viaLibri....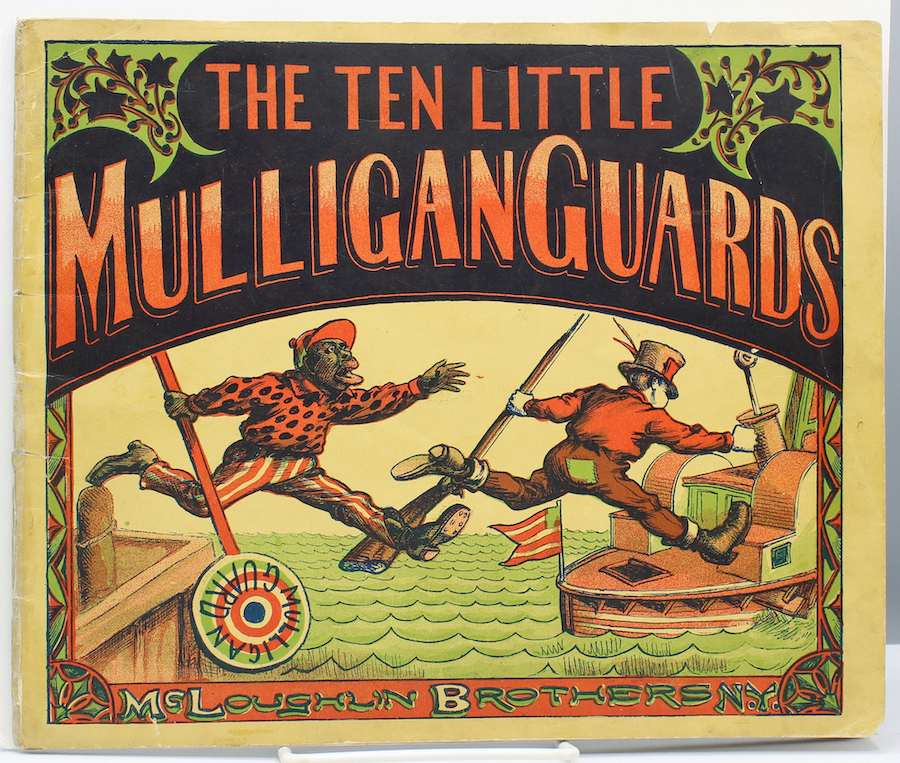 The Ten Little Mulligan Guards.
New York: McLoughlin Brothers, [n.d., 1874]. The Mulligan GuardÓ was an 1873 song and comedy sketch with lyrics by the Irish-American actor and songwriter Edward Harrigan (1844-1911) and music by the composer David Braham (1834-1905). Harrigan and the young actor Tony Hart (1855-1891) incorporated songs like ÒThe Mulligan GuardÓ into their Broadway performances like The Mulligan Guard Picnic (1878) and The Mulligan GuardsÕ Ball (1879). The Mulligan Guard plays satirize a neighborhood ÒmilitiaÓ made up of Irish immigrants in the United States and is inspired by the tensions across ethnic and racial lines in Brooklyn, where Harrigan grew up and lived much of his adult life. In their Mulligan shows, Harrigan and Hart often portrayed the Irish and German immigrants who populated Brooklyn and took on the roles of racist caricatures of black people. 10.75 inches by 9 inches. 10] ll. 12 half-page chromolithograph illustrations: 10 printed on the leaves and 2 on the interior of the wrappers. Original stiff paper wrappers printed in color with title and illustration. Spine reinforced with archival tape. A bit of creasing to wrappers and throughout and a bit of light toning, but overall a very good copy of a fragile item. First edition. The Ten Little Mulligan Guards was adapted for children from Harrigan and BrahamÕs ÒThe Mulligan Guard,Ó though OCLC notes that the music in The Ten Little Mulligan Guards is only the chorus of the original song and that the original lyrics have been replaced with new verses for children. The childrenÕs version of ÒThe Mulligan GuardÓ in the present i … [Click Below for Full Description]
Bookseller:
Michael R. Thompson Books, A.B.A.A.
[Los Angeles, CA, U.S.A.]
Search for more books on viaLibri