Recently found by viaLibri....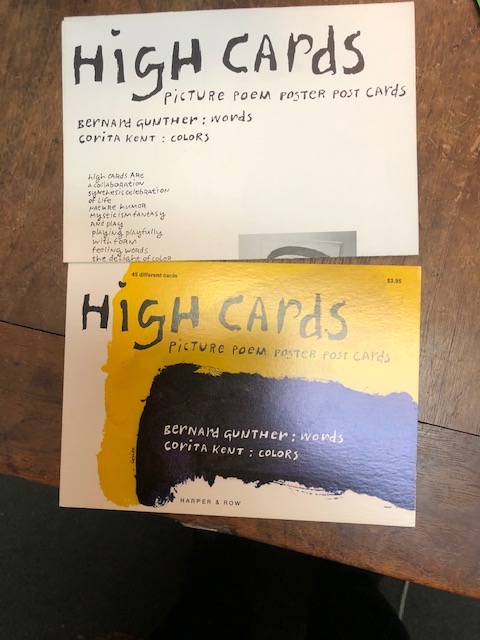 High Cards. Picture Poem Post Cards.
[New York:] Harper & Row, [1974]. High Cards were collaboratively produced by Corita Kent (1918 Ð 1986), also known as Sister Corita, and Bernard Gunther. Kent illustrated short, playful ÒmeditationsÓ by Gunther, a massage therapist and spiritual counselor, with joyous swaths of colorful paint. Most of the meditations are as simple as the phrase Òopen flowerÓ or brief wordplay like Òlet up donÕt let down.Ó The painting style of the cards is reminiscent of KentÕs 1971 ÒRainbow SwashÓ piece, a major Boston landmark painted on a 140-foot-tall natural gas storage tank in the neighborhood of Dorchester. The ÒRainbow SwashÓ remains the largest copyrighted piece of art in the world. 45 postcards and one title card, all 7 in. by 5 in. Title card and 23 postcards printed in color and 22 printed in black and white. Flexible card paper, glossy on verso and matte on recto. A fine, bright, complete set of all 45 cards with the scarce publisherÕs prospectus. First edition. A set of five of these cards were reprinted in 2015 by Fotofolio, but the complete set has never been reprinted. Corita Kent was a serigraph artist, muralist, and Catholic sister whose pop art pieces fused advertising and pop culture iconography, quotes from the Bible, and KentÕs own interests in civil rights and anti-war activism. Kent was also an art instructor at the Immaculate Heart College in Los Angeles and became the art department chair in 1964. The director of the Tang Teaching Museum at Skidmore College described her as Òa great printmakerÉ[and] also a dedicated and inventive Ñeven revolutionary Ñ teacherÓ wh … [Click Below for Full Description]
Bookseller:
Michael R. Thompson Books, A.B.A.A.
[Los Angeles, CA, U.S.A.]
Search for more books on viaLibri