Recently found by viaLibri....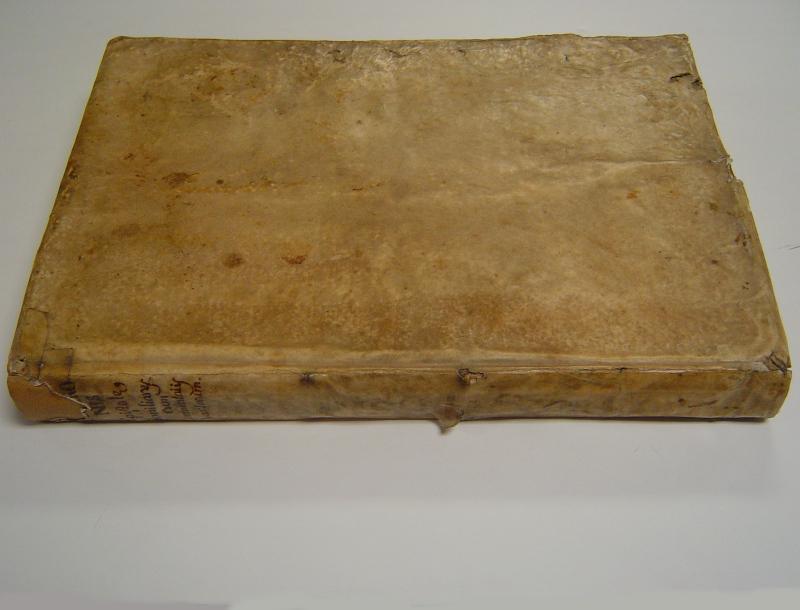 Familiarium Epistolarum Libri XVI
Venetiis (Venice): Apud Petrum Dusinellum, 1617. A good copy, bound in original vellum; vellum is warped and rippled, and missing an inch-deep chip from the top of the spine which takes out part of 'Ciceronis'. The text pages are rippled, but very little foxed, and everywhere whole and readable, if you read Latin. There are inked notes in Latin on the 1st blank page after the text. Rear hinge breaking at p. 224-5; 233 pp. total. The title page reads: "MARCI TVLLII/CICERONIS/FAMILIARIVM EPISTOLARVM/LIBRI XVI./CVM HVBERTINI CRESCENTINATIS,/Martini Philetici, Iodoci Badij Ascensij, Ioan. Baptistae Egnatij,/& Pauli Manutij Commentarijs./HIS ACCESERVNT VTILISSIMAE ANNOTATIONES,/sparsim appositae, quibus difficillima quaeque Ciceronis loca/explicantur: & Authores carum hi sunt:/[list of 11 annotators]/ADIECTIS PRAETEREA ARGVMENTIS, ET LEMMATIBUS GIBERTI LONGOLII/in fronte singularum Epistolarum./Nunc denuo in lucem editi, & exactiori quam ante hac, cura a mendis,/quibus scatebant, repurgati./VENETIIS, M DC XVII./[woodcut framing a dove w/ olive branch on a stump]/Apud Petrum Dusinellum./Corrigente D. Hupperto Faber.".
Bookseller:
PAGE ONE TOO
[Albuquerque, NM, U.S.A.]
Search for more books on viaLibri