Recently found by viaLibri....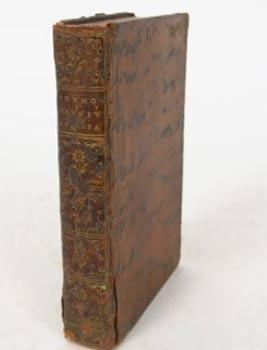 Georgii Pictorii Villingani Medici, Sermonvm Conuiualium apprimè utilium, Libri X. de [ue] Ebrietate Lusus quidam. Item, De Svblvnarivm Daemonum ortu, natura, illusionibus, [et]c. et quomodo pellendi sint Isagoge. Vnà cum Epitome de Magiæ cæremonialis seu Goetiæ speciebus. Quibus annexa est Resolutio, Vtrum Sagæ ignis mulcta damnandæ sint. Præterea, De Pharmacandi comprobata ratione libri II. per Theodoricum Vlsenium Med. carmine conscripti, & per eu[n]dem D. Pictorium Scholijs illustrati. His accedit quoq[ue] Q. Sereni Samonici Libellus de omnium morborum cura, metrica oratione conscriptus, [et] eiusdem D. Pictorij commentarijs explanatus. First edition.
Basel: Henricpetri, 1571. 8vo. Contemporary marbled calf.OCLC Number: 312027462 a-b8, A-Q8, a-f8, Aa-Hh8 Description: [16] Blätter, 222 Seiten, [17] Blätter, 87, [1] Seiten, [4] Blätter, 118 Seiten, [5] Blätter 8° Georg Pictorius of Villingen (c. 1500 - 1569) was a physician and an author of the German Renaissance. He became active as a physician from 1540 in Ensisheim. In his book on magic, he condemns witchcraft, endorsing the witch-trials of his time: "if the witches are not burned, the number of these furies swells up in such an immense sea that no one could live safe from their spells and charms." (Midelfort p. 59) His gynecological Frauenzimmer gives cosmetic advice for women, from the suppression of unpleasant scents to the shaping of their bosom (Walter, p. 372f.) PICTORIUS (Georg). Georgii Pictorii Villingani Medici Sermonum Convivalum apprimé ultimum, libri X.. Item de Sublunarum Daemonis ortu.. (A la suite) : - De Illorum Daemonum qui sub lunari collinitio Versantur.. Bâle, Henricpetri 1571. in-12. Veau marbré Expertise by Roger ROQUES - 06.12.15.30.68 - - 2 rue du Périgord - 31000 TOULOUSE. .
Bookseller:
Wittenborn Art Books
[San Francisco, CA, U.S.A.]
Search for more books on viaLibri
LINK TO THIS PAGE:
https://www.vialibri.net/years/books/209687588/1571-pictorius-georgius-1500-1569-heinrich-petri-georgii-pictorii-villingani-medici-sermonvm-conuiualium
Browse more rare books from the year 1571